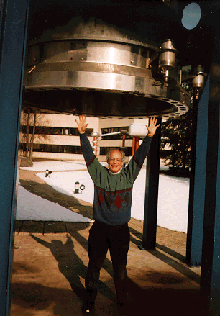 Project Leader:
Alan Litke
Alan Litke's research interests are primarily in the field of experimental particle physics. The goal of this research is to better understand the constituents and forces in nature, and to try to discover new and fundamental facts about the world. He has participated in experiments in which a new quark (charm), a new lepton (tau), and new atomic-like systems of a quark and anti-quark (psi' and psi''), have been discovered. His group developed and implemented (with collaborators) the first high-precision silicon vertex detector for colliding beam experiments, based on the technology of integrated circuits. This type of device is now widely used for the study of the tau lepton and the beauty and top quarks.

Litke's present research is on the ALEPH experiment at the LEP electron-positron collider, located at the CERN laboratory in Geneva. One goal of this experiment is to study the properties of the Z0, one of the gauge bosons responsible for the weak force. A second goal, which Litke's group is very actively involved in, is the study of the states of beauty, in which ALEPH's silicon vertex detector plays a critical role. This research is laying some of the groundwork for future studies, in the beauty system, of the subtle imperfection in the symmetry between matter and anti-matter ("CP violation").

Over the next few years, LEP's energy will be more than doubled, opening a new energy domain for exploration. Litke's group will be searching for new physics, including the "Holy Grail" of particle physics, the Higgs boson. The increase in energy will also allow ALEPH to study the properties of the charged gauge bosons, the W+ and W-.

In addition to his work in particle physics, Litke has an interest in neurophysiology. He has collaborated with neurophysiologists at Standford, applying integrated circuit fabrication techniques to make " retinal readout arrays". These electrode arrays are being used to detect signals from the individual output neurons of live retinal tissue, and thereby study information processing in the retina. In his time away from the lab, Litke likes to hike and ski with his wife and three children. He is also trying to learn to play tennis and speak french.
---
How to contact Alan
E-mail

LITKE@CERNVM.CERN.CH
---
LITKE@CERNVM.CERN.CH