---
Fall 2006 UCSC Intramurals Coed Softball
---
Team name: Re-Entry (sponsored by STARS)
Manager: Harrison Ellman (hte77@aol.com)
League Commissioner: Kevin ("Skippy") Givens (kdgivens@ucsc.edu)
Latest news
The schedule for the playoffs s now available. We play in the quarter-finals on Wednesday November 29 at 4 pm on Field #3. If we win, we would play the following day on November 30 at 4 pm, again on Field #3 in the semi-finals. Finally, the championship game will be held on Field #1 on Friday December 1 at 4pm. It's time for our playoff run.


Next Game
Our next game is a quarter-finals playoff match against Manhammer, the first place team of Division IV (the Friday coed softball league). So, be prepared for a challenging game. The game is scheduled for Wednesday November 29 at 4 pm SHARP on Field #3. Please show up at 3:30 pm for warmups. If you cannot make this game, please send e-mail to the manager preferably 48 hours in advance so that we can make sure we have enough people to field a full team. The schedule for future games can be found here.



Highlights of previous games
Re-Entry got back on the winning track with an 18--10 victory of the Wok-Men on November 16 to claim second place in the Division 3 Coed Softball League. i\It was a mud filled get your shirt dirty game. With some timely hitting, Re-Entry "played until we couldn't see and somehow used the night goggles to pull out the win" (to quote our illustrious manager). It was a good way to end the season with some momentum going into the playoffs.
The November 9 game vs. Los Gigantes was a thriller. With first place of the division at stake, runs were difficult to come by. Down by two runs going into the bottom of the 7th, Re-Entry tied the game forcing extra innings. In the 8th inning, Re-Entry was again down, this time by one run, which it made up in the bottom half of the inning, forcing a second extra inning. Unfortunately, the comebacks came up just short, as Re-Entry lost in 9 innings to Los Gigantes by a final score of 8--7. Nevertheless, Re-Entry has clinched second place in the division, which guarantees a spot in the playoffs.
Re-Entry vs. Sluggerz boxscore
inning:
1
2
3
4
5
6
7
Runs
Re-Entry
3
5
1
0
0
0
1
10
Sluggerz
0
0
0
0
0
1
3
4
A superb effort by the Re-Entry team resulted in a 10--4 victory over Sluggerz on October 26. The bats were hot during the first two innings as Re-Entry jumped to an 8--0 lead. Meanwhile, the defense was very sharp and held Sluggerz scoreless over the first five innings. The web gem of the game was turned in by Allison at 3B, who dived to her left to field a well-hit ground ball and get the force-out at second base to end a Sluggerz threat in the fourth inning. By the time Sluggerz discovered their slugging, a three run seventh was not enough, and Re-Entry claimed the win. A record three double plays, including a 6(unassisted)--3 to end the game capped the strong Re-Entry defensive effort.


TEAM ROSTER
Fall 2006 Re-Entry coed team softball roster

PLAYER
POSITION(S)
Emily Cairns
OF, C
Cameron Chinn
OF, 1B
Harrison Ellman
OF, SS
Allison Garcia
3B
Michael Green
DH, C
Howie Haber
SS, OF
Josh Kanter
OF
Kim Lewis
2B, RF, C
Ryan Lewitter
1B
Clara Lillig-Wilshire
2B, RF
Asher Noel Reilly
OF
Tracy Wilson
C, RF
Schedule of softball games
Fall 2006 Coed Softball Schedule

Date
Time
Field
Opponent
Score
October 12
4 pm
1
Lumpen Proletariat
7--2 (W)
October 19
4 pm
1
Mercurials
21--7 (W)
October 26
4 pm
1
Sluggerz
10--4 (W)
November 2
4 pm
1
--
Postponed
November 9
4 pm
1
Los Gigantes
8--9 (L)
November 16
4 pm
1
Wok-Men
18--10 (W)
November 29
4 pm
3
Manhammer
--
November 30
4 pm
3
SEMI-FINALS
--
December 1
4 pm
1
CHAMPIONSHIP GAME
--
There are four divisions of coed softball. The top two teams from each division qualify for the playoffs.



Division 3 Coed Softball League Standings
Team
Won
Lost
Games Behind
* Los Gigantes
5
0
--
* Re-Entry
4
1
1
Sluggerz
2
3
3
Lumpen Proletariat
1
3
3 1/2
Mercurials
1
3
3 1/2
Wok-Men
1
4
4

* clinched a playoff berth.
Results of October 12
Re-Entry 7 &nbsp &nbsp Lumpen Proletariat 2
Los Gigantes 12 &nbsp &nbsp &nbsp Mercurials 6
Sluggerz 13 &nbsp &nbsp Wok-Men 11

Results of October 19
Re-Entry 21 &nbsp &nbsp Mercurials 7
Los Gigantes 16 &nbsp &nbsp Wok-Men 13
Lumpen Proletariat 17 &nbsp &nbsp Sluggerz 16

Results of October 26
Re-Entry 10 &nbsp &nbsp Sluggerz 7
Mercurials 26 &nbsp &nbsp Wok-Men 21
Los Gigantes 23 &nbsp &nbsp Lumpen Proletariat 7

November 2 games rained out (to be rescheduled for November 16)
Results of November 9
Los Gigantes 8 &nbsp &nbsp Re-Entry 7 (9 innings)
Wok-Men 22 &nbsp &nbsp Lumpen Proliteriat 21
Sluggerz 20 &nbsp &nbsp Mercurials 15

Results of November 16
Re-Entry 18 &nbsp &nbsp Wok-Men 10
Los Gigantes defeated the Sluggerz
Lumpen Proletariat vs. Mercurials (result unknown)

Quarterfinal Playoff Results of November 28
Los Gigantes 14 &nbsp &nbsp Wolfpack 13
Backyard Bangers 21 &nbsp &nbsp B/E 4

Quarterfinal Playoff Results of November 29
IRULEU vs. Trailer Trashers
Manhammer vs. Re-Entry

Location of the Softball Fields
All fields are adjacent to the East Field House. The field closest to the swimming pool is Field 1 (for another view click here). Follow the running track in the direction of Monterey Bay to reach Field 2. Keep following the track as it turns, and you will then end up at Field 3, which is the furthest of the three softball fields from the Field House.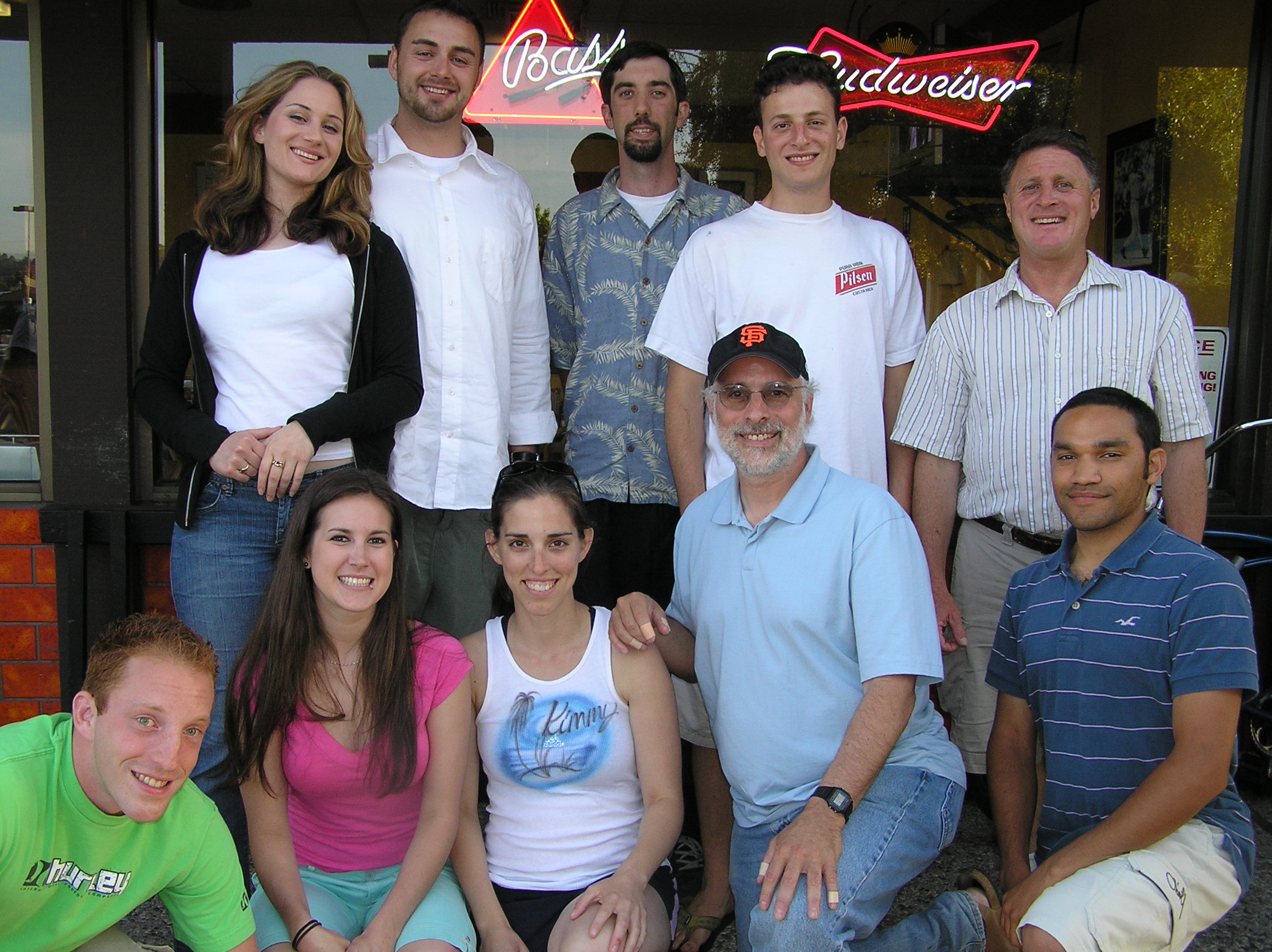 Spring 2006 Coed Softball Re-Entry Team
back row (standing from left to right): Kimberly, Jan, Asher, Ryan and Michael Green
front row (kneeling from left to right): Harrison, Emily, Kim, Howie and Michael Reddy
not shown: Tanya, Cindy, Ezequiel and Lindsay
Coed team photos from previous seasons

(pictures from the spring 2006 coed team)

(pictures from the fall 2005 coed team)

(pictures from the spring 2005 coed team)

(pictures from the fall 2004 coed team)

(pictures from the spring 2004 coed team)

( pictures from the fall 2003 coed team)

( pictures from the fall 2002 coed team)
Coed team web pages from previous seasons

( Spring 2006 coed team web page)

( Fall 2005 coed team web page)

( Spring 2005 coed team web page)

( Fall 2004 coed team web page)

( Spring 2004 coed team web page)

( Fall 2003 coed team web page)

( Fall 2002 coed team web page)
---
haber@scipp.ucsc.edu
Last Updated: November 28, 2006