---
Spring 2005 UCSC Intramurals Open Softball
---
Team name: Re-Entry (sponsored by STARS)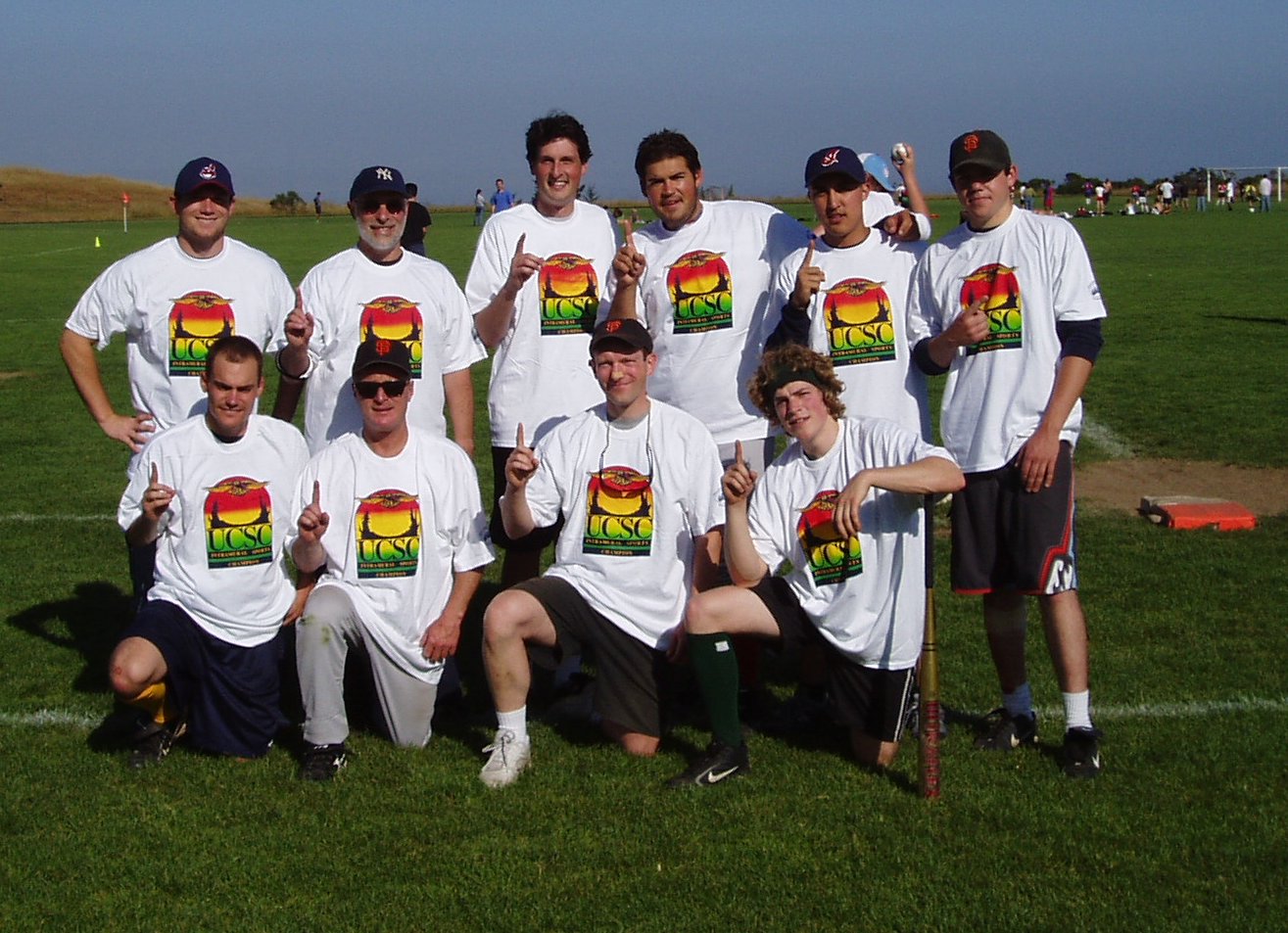 Spring 2005 UCSC Intramural Open Softball Champions
back row (from left to right): Nate, Howie, Brian, Emiliano, Ezequiel and Peter
front row kneeling (from left to right): Nick, Michael, Scott and Jim
not shown: Nate D. and Jerry
More pictures from the celebration at Tony and Alba's can be found by clicking here.
Latest news: Results from the Championship game
CONGRATULATIONS TO THE RE-ENTRY OPEN SOFTBALL TEAM---THE CHAMPIONS OF THE SPRING 2005 UCSC INTRAMURAL OPEN SOFTBALL LEAGUE.
Championship game boxscore
inning:
1
2
3
4
5
6
7
Runs
Re-Entry
0
2
4
0
3
0
3
12
Wolfpack
0
1
0
3
1
1
0
6
The final game of the season was a relatively low scoring affair, in which the Re-Entry team took the early lead and never relinquished it. Playing against a re-invigorated Wolfpack squad, Re-Entry responded to a Wolfpack three-spot with one of their own in the top of the fifth to re-establish a five run lead. With the lead dwindled down to three runs as the last inning commenced, Re-Entry succeeded in pushing through three critical runs, which was sufficient insurance to make sure that a championship would not slip away. The final score: Re-Entry 12 and the Wolpack 6, ensuring champion T-shirts for the team. (If you have not collected your T-shirt, stop by my office.) The two playoff victories were truly team efforts, which I was proud to be a part of.
Thanks again to all of you who contributed to a successful season. Pictures from the Tony and Alba's pizza dinner are now available.
Results from the Semi-finals game
Semi-final boxscore
inning:
1
2
3
4
5
6
7
Runs
Quitcha Bitchin'
0
4
8
1
0
1
0
14
Re-Entry
0
0
1
2
3
7
2
15
What a game on May 27!! A Re-Entry record was set for the largest comeback in team history. Down 12 runs after 2 1/2 innings and still down by 8 runs with only two more innings to go, Re-Entry roared back with a seven run sixth inning to bring the team to within one run. After holding Quitcha Bitchin' scoreless in the top of the seventh, successive singles by Nate D., Howie and Nate W. set the stage for our team MVP, Nick. With the game now tied and still none out, Nick promptly lashed a screaming line drive (opposite field) down the left field line, driving in Howie from second base for the winning run. A walk-off hit thus ended the game and propelled Re-Entry into the championship game.
Next Game
Unfortunately, there will be no open softball in the spring of 2006. We are hoping to revive the open softball league in the spring of 2007. More details when available.



TEAM ROSTER
Spring 2005 Re-entry team open softball roster

PLAYER
POSITION(S)
Emiliano Carrasco-Zanini
3B, OF
Nicholas Conway
OF, SS
Nathaniel J. Dominy
C,1B,OF
Michael Green
1B,C,OF
Brian Grefenstette
OF, 3B,1B
Howie Haber
SS, 2B
Peter Kirchner
1B, OF, C
Jerry Lane
OF, 3B
Ezequiel Olvera
2B ,SS
Jim Real
OF
Nate Wildman
3B, OF
Scott Thomas
2B, C
Schedule of softball games
Spring 2005 Open Softball Schedule

April 22
--
BYE
--
April 29
3
Wolfpack
23--9 (W)
May 6
1
Quitcha Bitchin'
9--20 (L)
May 13
3
The Backyard Bangers
7--19 (L)
May 20
3
Wild Pitch
18--1 (W)
May 21 (1 pm)
1
Soft Serve Ninjas
32--5 (W)
May 27 [SEMI-FINAL]
3
Quitcha Bitchin'
15--14 (W)
June 3 [FINAL]
1
Wolfpack
12--6 (W)
Location of the Softball Fields
All fields are adjacent to the East Field House. The field closest to the swimming pool is Field 1 (for another view click here). Follow the running track in the direction of Monterey Bay to reach Field 2. Keep following the track as it turns, and you will then end up at Field 3, which is the furthest of the three softball fields from the Field House.
---
haber@scipp.ucsc.edu
Last Updated: April 22, 2006