Fall 2002 Re-entry team coed softball roster

PLAYER
POSITION(S)
Justin Brown
OF
T.J. Cox
OF, C
John Donohue
OF, 1B
Annetta Gentile
2B, C
Howie Haber
SS
Eric Jones
OF
Eliina Karyndinha
OF, 1B
Tony Kodis
1B, OF
Rachel Lando
C ,OF, 2B
Cindy Rivas
3B
Darrell Sartin
OF
Latest news

Heartbreaking loss!!! In the bottom of the seventh, the potential tying run was thrown out at home plate in a very close play to end the game. A 17-16 loss to Banobos in the semi-finals of coed softball ended the season one game too early for the Re-entry Team.
What's Up?
Despite the heartbraking loss in the playoffs, congratulations to the Re-entry co-ed team for the third straight undefeated regular season. Spring 2003 will be here before you know it, so be prepared to defend our regular season title and another playoff run. Keep looking here in early 2003 for announcements of informal pick-up games and other spring training activities.
The semi-annual team pizza party took place on Wednesday November 20 starting at 6:30 pm at Tony and Alba's on Soquel Ave. The team picture above was taken a few minutes before the pizza arrived. Actually, two digital pictures were taken. Click here to see both pictures (check out Justin in the alternate take!).
Softball games
Games take place every Friday at 4 pm on Field 1 unless otherwise noted (see schedule below). Please show up at 3 pm for warm-ups and batting practice. If you cannot make a game, please give 48 hours notice, if possible, by sending e-mail to either T.J. or Howie.



Fall 2002 Coed Softball Schedule

Date
Opponent
Score
October 4 (4 pm)
Dark Shiza
13-4 (W)
October 11 (4 pm)
69ers
12-8 (W)
October 18 (5 pm) )
Hardballers
11-9 (W)
October 25 (4 pm)
Swingers
14-6 (W)
November 1 (4 pm)
Softballin'
10-5 (W)
November 8 (4 pm)
Hobangers
RAINED OUT
November 15 (4pm)
Exhibition game
17-12 (W)
November 20 (4pm)
semi-finals vs. Banobos
16-17 (L)
Location of the Softball Fields
All fields are adjacent to the East Field House. Field 1 is closest to the swimming pool. Follow the running track in the direction of Monterey Bay to reach Field 2. Keep following the track as it turns, and you will then end up at Field 3, which is the furthest of the three softball fields from the Field House.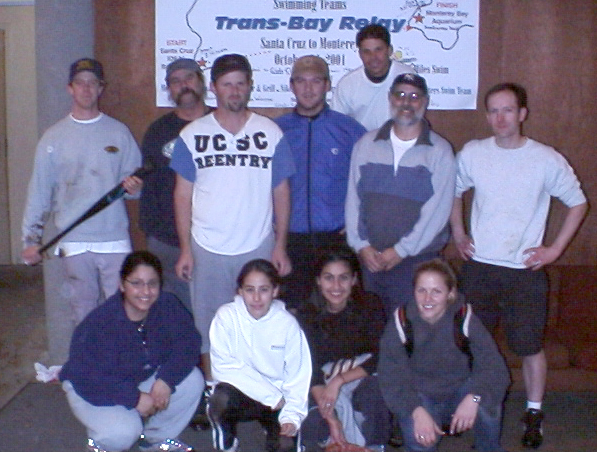 The Fall 2001 Championship Coed Softball Team
---
haber@scipp.ucsc.edu
Last Updated: November 23, 2002