---
Fall 2004 UCSC Intramural Coed Softball
---
Team name: Re-Entry (sponsored by STARS)
Link to the current Re-Entry Team home page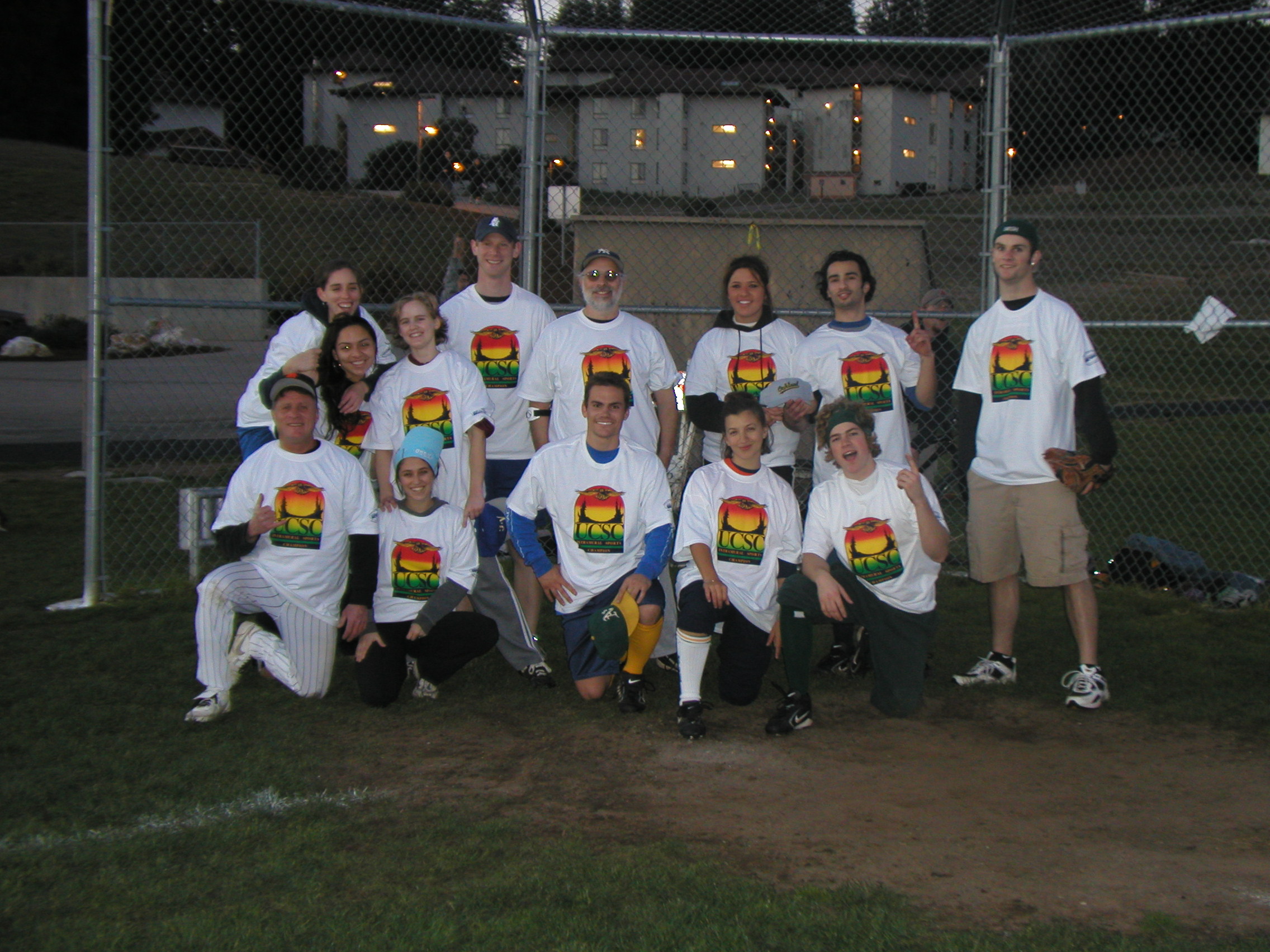 Fall 2004 UCSC Intramural Softball Champions
back row (from left to right): Kim, Cindy, Michelle, Nate, Howie, Mercedes, Pete and Joe
front row kneeling (from left to right): Michael, Annetta, Nick, Crystal and Jim
Latest news

More pictures from the post-championship celebration are now available. Check them all out here (where higher resolution versions of the pictures can be found).




Results from the championship game
final boxscore
inning:
1
2
3
4
5
6
7
Runs
Cowell Corrupters
3
0
1
0
0
2
1
7
Re-Entry Rockets
2
0
3
2
6
4
x
17
Congratulations to the UCSC Fall 2004 Intramural Coed Softball Champions! After falling two runs behind early, solid defense and timely hitting prevailed in a convincing 17--7 Re-Entry win over the Cowell Corrupters in the championship game on Friday December 3. There was no let-up through the entire lineup, as eleven unanswered runs in the middle innings turned a close game into a foregone conclusion. After four years of drought, the championship returns to the fabled Re-Entry franchise.
Re-Entry reached the championship game after a near perfect season that included a first place finish in the Friday league followed by a strong showing in the semi-final match this past Wednesday. Despite a somewhat depleted roster and despite falling behind early, our team rebounded late in the semi-finals with four runs in the penultimate inning to go ahead by three runs. Hanging on to a one run lead heading into the final inning, our offense finally exploded with eight runs to put the game away. As a result, we moved on to the championship game to face the first place team in the Wedensday league---the Cowell Corrupters.
Next Game
The next game will take place in April, 2005 when Re-entry begins its championship defense in the spring 2005 season. We are tentatively planning for spring training in early March. More information will be provided at a later date. Happy holidays to all and best wishes for a fruitful new year!



TEAM ROSTER
Fall 2004 Re-entry team coed softball roster

PLAYER
POSITION(S)
Nicholas Conway
OF, SS
Nathaniel J. Dominy
OF, 1B
Mercedes Evangelista
3B, 1B
Peter Federico
OF, C
Michael Green
1B, OF
Annetta Gentile
2B, C
Howie Haber
SS
Kim Lewis
2B, 3B, OF, C
Michelle McHenry
OF ,C
Jim Real
OF
Cindy Rivas
3B, 2B, C
Scott Thomas
OF
Joe Whearty
OF
Crystal Wild
OF, 3B, 2B, C
Schedule of softball games
Fall 2004 Coed Softball Schedule

Date
Field
Opponent
Score
October 15
1
Quitcha Bitchin'
11--6 (W)
October 22
1
Wolfpack
35--8 (W)
October 29
1
Team Hawk
17--0 (W)
November 5
1
Backyard Bangers
17--7 (W)
November 12
1
Bonobos
7--14 (L)
November 19 [QUARTER-FINAL]
--
BYE (no game)
--
December 1 [SEMI-FINAL]
1
Quitcha Bitchin'
19--11 (W)
December 3 [FINAL]
1
Cowell Corrupters
17--7 (W)
Location of the Softball Fields
All fields are adjacent to the East Field House. The field closest to the swimming pool is Field 1 (for another view click here). Follow the running track in the direction of Monterey Bay to reach Field 2. Keep following the track as it turns, and you will then end up at Field 3, which is the furthest of the three softball fields from the Field House.
The Re-Entry team celebrates a championship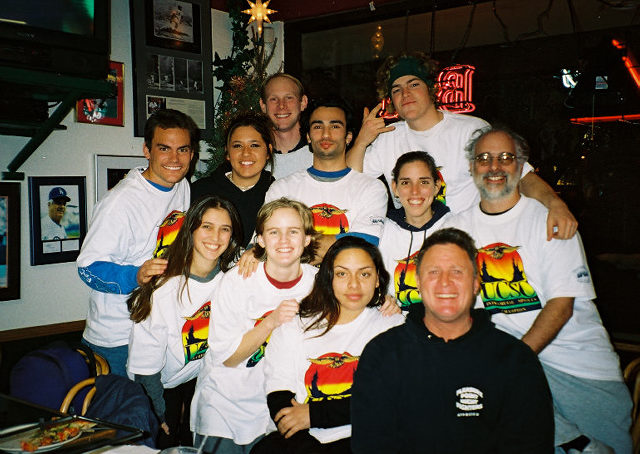 The Fall 2004 Coed Softball Team celebrates a championship
front row (from left to right): Annetta, Michelle, Cindy and Michael
middle row standing (from left to right): Nick, Mercedes, Pete, Kim and Howie
back row standing (from left to right): Nate and Jim

(more fall 2004 coed team pictures here)



Coed team photos from previous seasons
(pictures from the spring 2004 coed team)

( pictures from the fall 2003 coed team)

( pictures from the fall 2002 coed team)
---
haber@scipp.ucsc.edu
Last Updated: December 23, 2004