---
Fall 2005 UCSC Intramurals Coed Softball
---
Team name: Re-Entry (sponsored by STARS)
Link to the current Re-Entry Team home page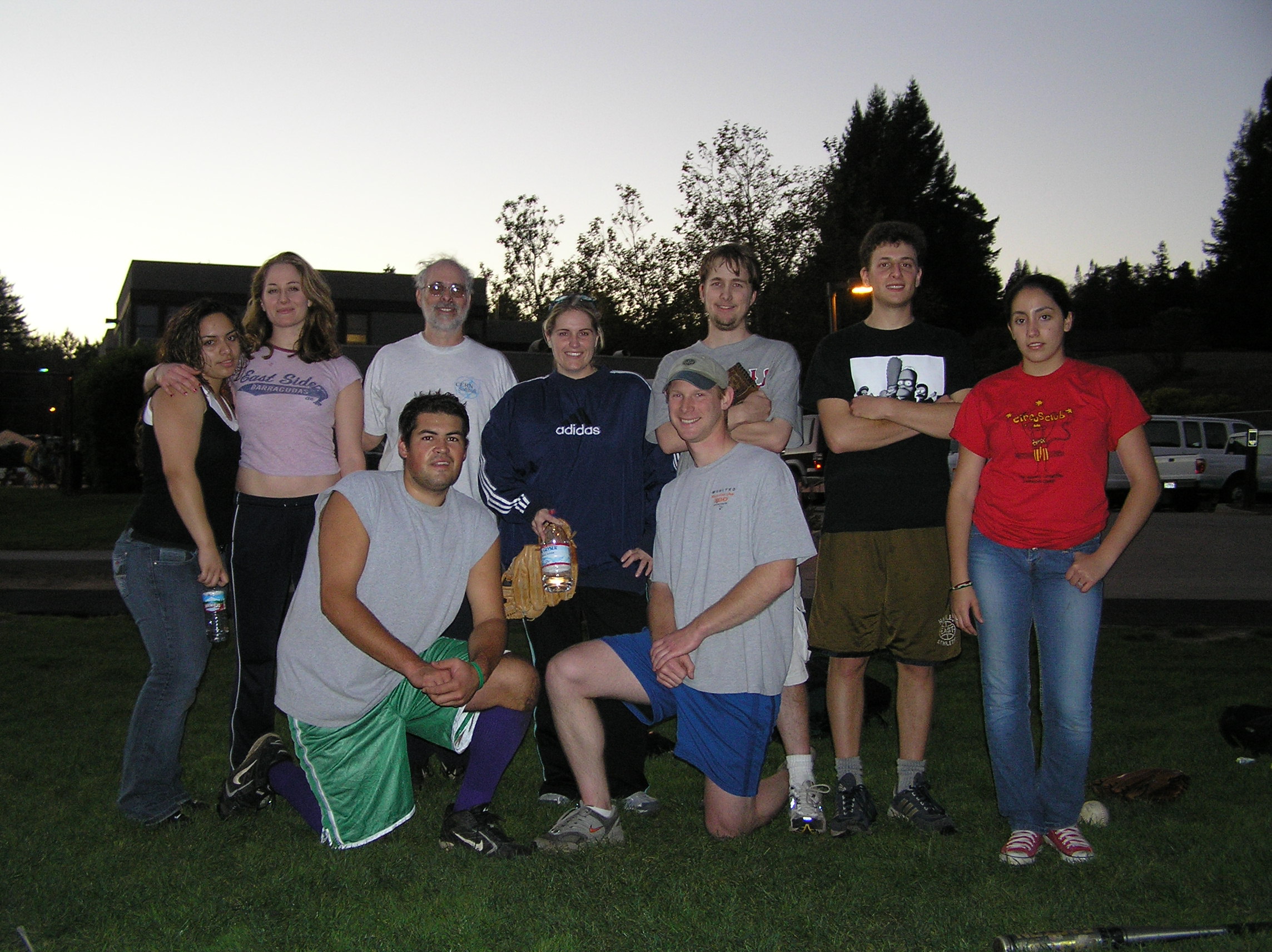 Fall 2005 Coed Softball Re-EntryTeam
back row (standing from left to right): Cindy, Kimberly, Howie, Renee, Scott, Ryan and Natalie
front row (kneeling from left to right): Emiliano and Nate
not shown: Beth, Michael Green, Michael Reddy, Ezequiel and Jim
More pictures from the UCSC softball field and from the team pizza party at Tony and Alba's can be found by clicking here.
Latest news

In the last regular game of the season, it came down to an exciting last inning of play to decide the contest. We struck early in the game, with a ten run second inning, but our opponents chipped away to take a one run lead going in to the last inning. With two outs and down to our last chance, a clutch hit brought in the tying run. Two batters later, a two run home run put Re-Entry up by two runs. The two run lead almost held up in the bottom of the inning. But, with two outs with runners on second and third, Team Hawk delivered the knockout blow with a line drive single to drive in the tying and winning runs.
It was a valiant Re-Entry effort that just came up a little short. Consequently, we did not qualify for the playoffs this season. Nevertheless, let me express my thanks to all Re-Entry team members for their spirited play and good cheer!


Next Game
The next game will take place in April, 2006 with the start of the spring softball season. (There is no softball during the winter quarter.) I hope to see many of you back in the spring.



TEAM ROSTER
Fall 2005 Re-Entry team coed softball roster

PLAYER
POSITION(S)
Emiliano Carrasco-Zanini
OF
Kimberly Davis
3B
Nathaniel Dominy
OF
Michael Green
OF
Howie Haber
SS, OF
Scott Kelley
OF, C
Ryan Lewitter
OF, 1B
Renee Mersino
2B, 1B, C
Natalie Nuno
C, OF, 2B
Ezequiel Olvera
2B, SS
Jim Real
OF
Michael Reddy
OF
Cindy Rivas
2B, C
Beth Schey
1B, SS
Schedule of softball games
Fall 2005 Coed Softball Schedule

Date
Field
Opponent
Score
October 14
1
Hard Hats Required
8--4 (W)
October 21
1
Cowell Corrupters
9--16 (L)
October 28
1
Super Heros
18--10 (W)
November 4
1
Raging Coaches
10--26 (L)
November 16
1
Team Hawk
14--15 (L)
Friday League Final Standings
Team
Won
Lost
Games Behind
Cowell Corrupters
4
0
---
Team Hawk
4
1
1/2
Raging Coaches
2
2
2
Re-Entry Rockets
2
3
2 1/2
Super Heros
1
3
3
Hard Hats Required
0
4
4
Location of the Softball Fields
All fields are adjacent to the East Field House. The field closest to the swimming pool is Field 1 (for another view click here). Follow the running track in the direction of Monterey Bay to reach Field 2. Keep following the track as it turns, and you will then end up at Field 3, which is the furthest of the three softball fields from the Field House.
Spring 2005 Coed Softball Re-Entry Team
back row (standing from left to right): Jim, Emiliano, Michael, Kim. Michelle and Nate
front row (seated from left to right): Crystal, Audra, Nick, Lindsay and Howie
not shown: Evelyn, Jerry and Mercedes
Fall 2004 UCSC Intramural Softball Champions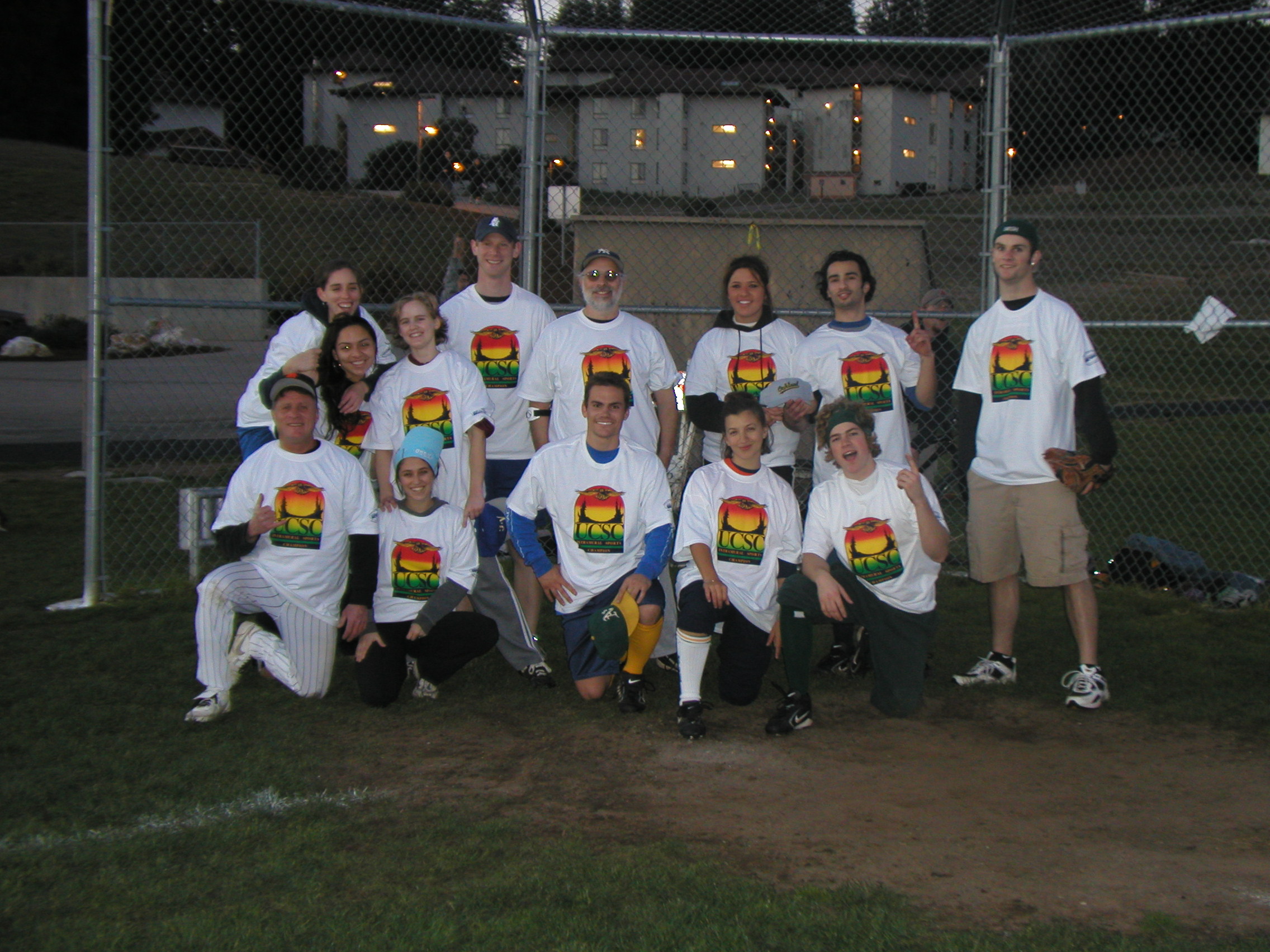 back row (from left to right): Kim, Cindy, Michelle, Nate, Howie, Mercedes, Pete and Joe
front row kneeling (from left to right): Michael, Annetta, Nick, Crystal and Jim
Coed team photos from previous seasons
(pictures from the spring 2005 coed team)

(pictures from the fall 2004 coed team)

(pictures from the spring 2004 coed team)

( pictures from the fall 2003 coed team)

( pictures from the fall 2002 coed team)
---
haber@scipp.ucsc.edu
Last Updated: November 17, 2005