---
Spring 2005 UCSC Intramurals Coed Softball
---
Home page of the defending UCSC Fall 2004 Intramurals Coed Softball Champions
---
Team name: Re-Entry (sponsored by STARS)
Link to the current Re-Entry Team home page
Spring 2005 Coed Softball Re-EntryTeam
back row (standing from left to right): Jim, Emiliano, Michael, Kim. Michelle and Nate
front row (seated from left to right): Crystal, Audra, Nick, Lindsay and Howie
not shown: Evelyn, Jerry and Mercedes
More pictures from the team pizza party at Tony and Alba's can be found by clicking here.
Latest news

Thanks again to all of you who contributed to a great season. Although we did not make it to the finals this season, there are many fine memories to savor. Pictures from the Tony and Alba's pizza dinner have finally been posted. The fall softball season is fast approaching, and we've got a fall championship to defend!!!

Playoff results
Re-Entry suffered the first loss of the season at the hands of Golden Guerrillas, in the quarter-finals of the playoffs. Two big innings, a seven run second and a ten run fifth by the Guerrillas, did most of the damage (the latter after Re-Entry had closed the gap to 8--4). After that, the final result (a loss by 25--10) was a foregone conclusion.
Nevertheless, we shouldn't lose sight of a terrific 2004--2005 academic year that produced a championship in the fall and an undefeated regular season in the spring.


Next Game
Our next game is in early October. Details will be posted when available.



TEAM ROSTER
Spring 2005 Re-Entry team coed softball roster

PLAYER
POSITION(S)
Emiliano Carrasco-Zanini
OF,3B,1B
Nicholas Conway
OF, SS
Mercedes Evangelista
3B, 1B
Audra Favero
C, 2B
Lindsay Fleshman
2B, 3B, OF
Michael Green
1B, OF
Howie Haber
SS
Jerry Lane
OF, 1B
Kim Lewis
2B, 3B, OF, C
Michelle McHenry
OF ,C
Evelyn Parada
3B
Jim Real
OF
Nate Wildman
OF
Crystal Wild
OF, C
Schedule of softball games
Spring 2005 Coed Softball Schedule

Date
Field
Opponent
Score
April 22
--
BYE
--
April 29
3
Channel 4 News Team
9--4 (W)
May 6
1
Hardball
26--9 (W)
May 13
3
Bukkake
33--6 (W)
May 20
3
Phillie Titans
16--5 (W)
May 21 (3 pm)
1
Team Hawk
7--0 (forfeit-W)
May 27
3
Team Meat
18--5 (W)
June 1 at 6:30 pm [SWEET 16]
2
Key Stoked
7--0 (forfeit-W)
June 1 at 6:30 pm [QUARTER-FINAL]
2
Golden Guerrillas
10--25 (L)
Location of the Softball Fields
All fields are adjacent to the East Field House. The field closest to the swimming pool is Field 1 (for another view click here). Follow the running track in the direction of Monterey Bay to reach Field 2. Keep following the track as it turns, and you will then end up at Field 3, which is the furthest of the three softball fields from the Field House.
Fall 2004 UCSC Intramural Softball Champions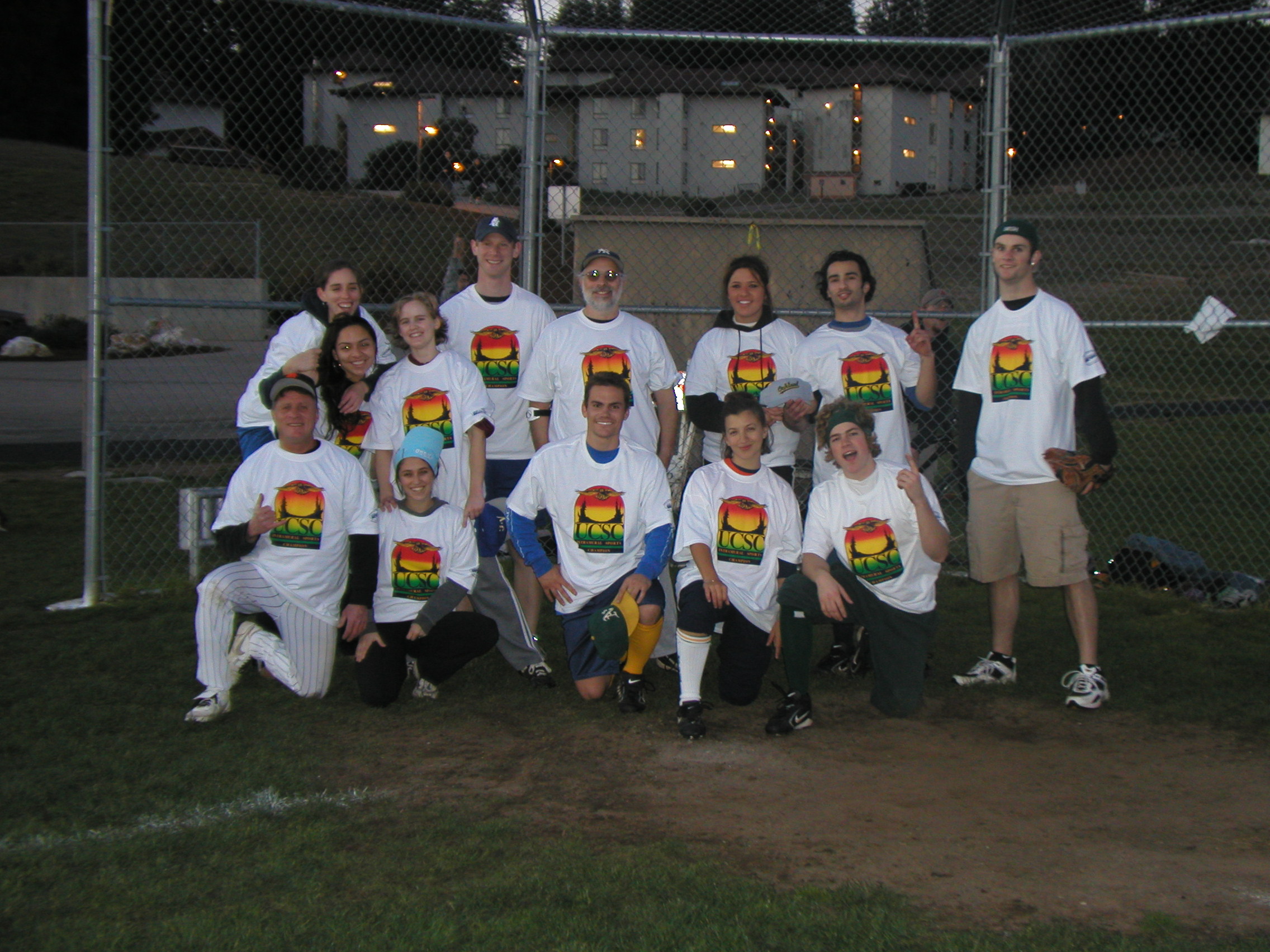 back row (from left to right): Kim, Cindy, Michelle, Nate, Howie, Mercedes, Pete and Joe
front row kneeling (from left to right): Michael, Annetta, Nick, Crystal and Jim
The Re-Entry team celebrates a championship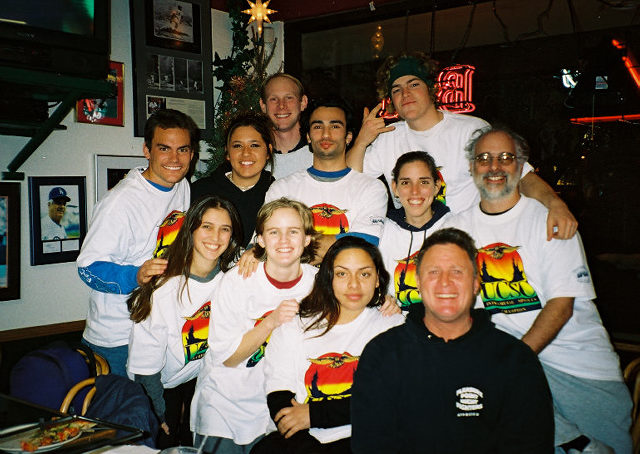 The Fall 2004 Coed Softball Team celebrates a championship
front row (from left to right): Annetta, Michelle, Cindy and Michael
middle row standing (from left to right): Nick, Mercedes, Pete, Kim and Howie
back row standing (from left to right): Nate and Jim

(more fall 2004 coed team pictures here)


More pictures from the post-championship celebration are now available. Check them all out here (where higher resolution versions of the pictures can be found).


Coed team photos from previous seasons
(pictures from the spring 2004 coed team)

( pictures from the fall 2003 coed team)

( pictures from the fall 2002 coed team)
---
haber@scipp.ucsc.edu
Last Updated: September 18, 2005