---
Fall 2003 UCSC Intramural Coed Softball
---
Team name: Re-entry (sponsored by STARS)
Link to the current Re-Entry Team home page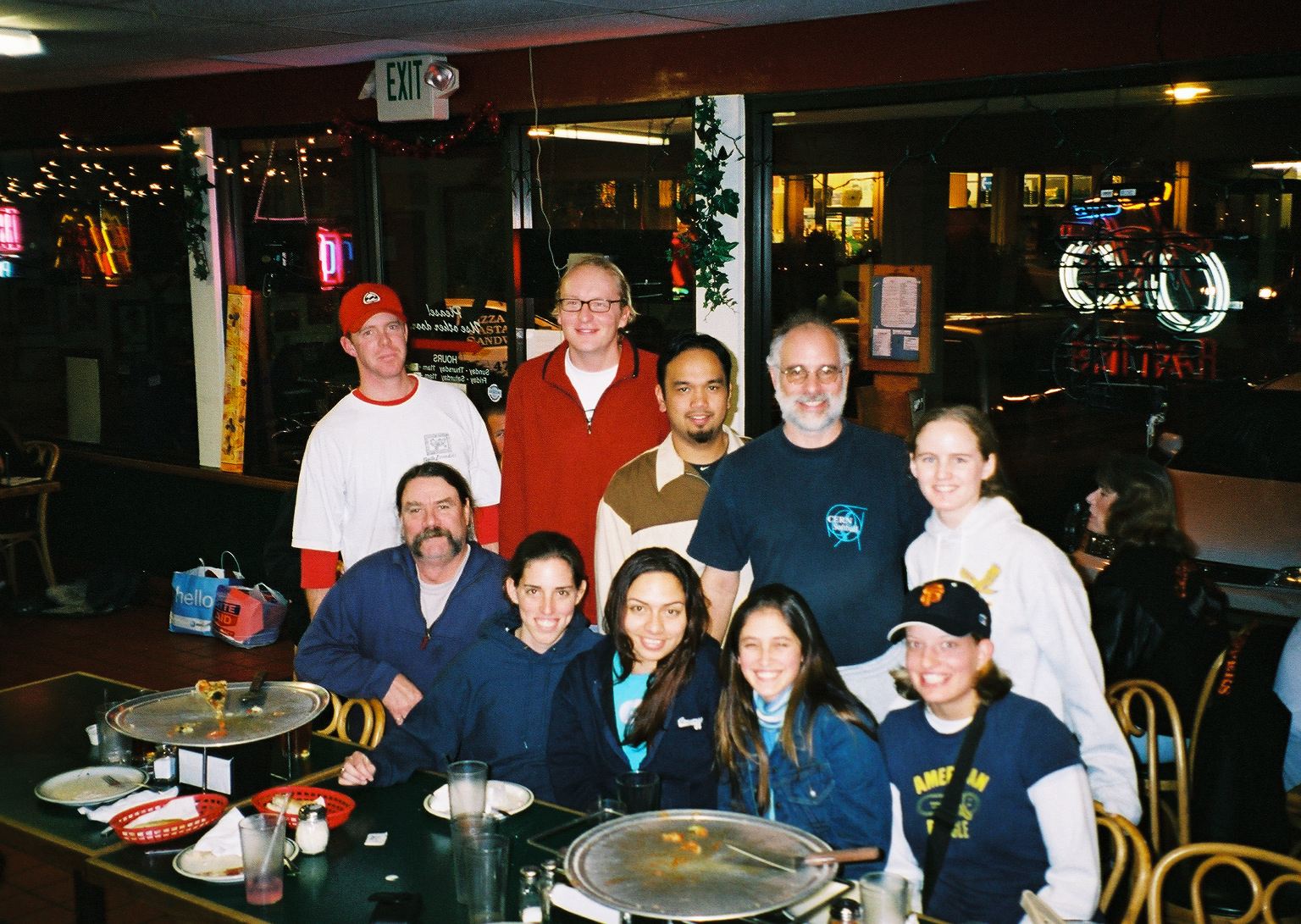 seated (from left to right): Jerry, Kim, Cindy, Annetta and Laura
standing (from left to right): Justin, T.J., Zeke, Howie and Michelle
absent from the picture: Erin, Xavier and Tony

(more pictures here)

( pictures from the fall 2002 coed team)
Latest news

A dramatic comeback fell just short!! Down by ten runs early in the semi-final playoff game against Bonobos, and still down by six runs going into the bottom of the last inning, our team rallied to close the gap to two runs. With second and third occupied and the potential winning run up at the plate with two outs, a fly ball to center field ended our season. Nevertheless, we should be proud of our valiant effort on the field despite the ultimate 11--9 loss.
Next Game
The next game will be on a Friday in early April 2004. We hope to arrange some spring training workouts in March.



TEAM ROSTER
Fall 2003 Re-entry team coed softball roster

PLAYER
POSITION(S)
Laura Anderson
C, 1B
Erin Baldwin
3B, 2B, OF
Justin Brown
OF
T.J. Cox
OF
Zeke Galang
OF, 1B, C
Annetta Gentile
2B, C
Howie Haber
SS
Tony Kodis
OF, 1B
Jerry Lane
OF, 1B, SS
Kim Lewis
2B, 3B
Michelle McHenry
OF
Jason X. Prochaska
OF
Cindy Rivas
3B, 2B, C
Schedule of softball games
Fall 2003 Coed Softball Schedule

Date
Field
Opponent
Score
October 10
2
Bonobos
8--11 (L)
October 17
1
Head Observers
9--0 forfeit (W)
October 24
2
Debasers
9--15 (L)
October 31
3
RBI Posse
9--0 forfeit (W)
Novermber 7
3
Owls
3--12 (L)
November 14
--
RAINED OUT
--
November 20
1
Free agents
12--10 (W)
December 3 (semi-finals)
1
Bonobos
9--11 (L)
Location of the Softball Fields
All fields are adjacent to the East Field House. The field closest to the swimming pool is Field 1 (for another view click here). Follow the running track in the direction of Monterey Bay to reach Field 2. Keep following the track as it turns, and you will then end up at Field 3, which is the furthest of the three softball fields from the Field House.
---
haber@scipp.ucsc.edu
Last Updated: December 6, 2003