---
Fall 2006 UCSC Intramurals Coed Softball
---
Team name: Re-Entry (sponsored by STARS)
Manager: Harrison Ellman (hte77@aol.com)
League Commissioner: Kevin ("Skippy") Givens (kdgivens@ucsc.edu)
Link to the current Re-Entry Team home page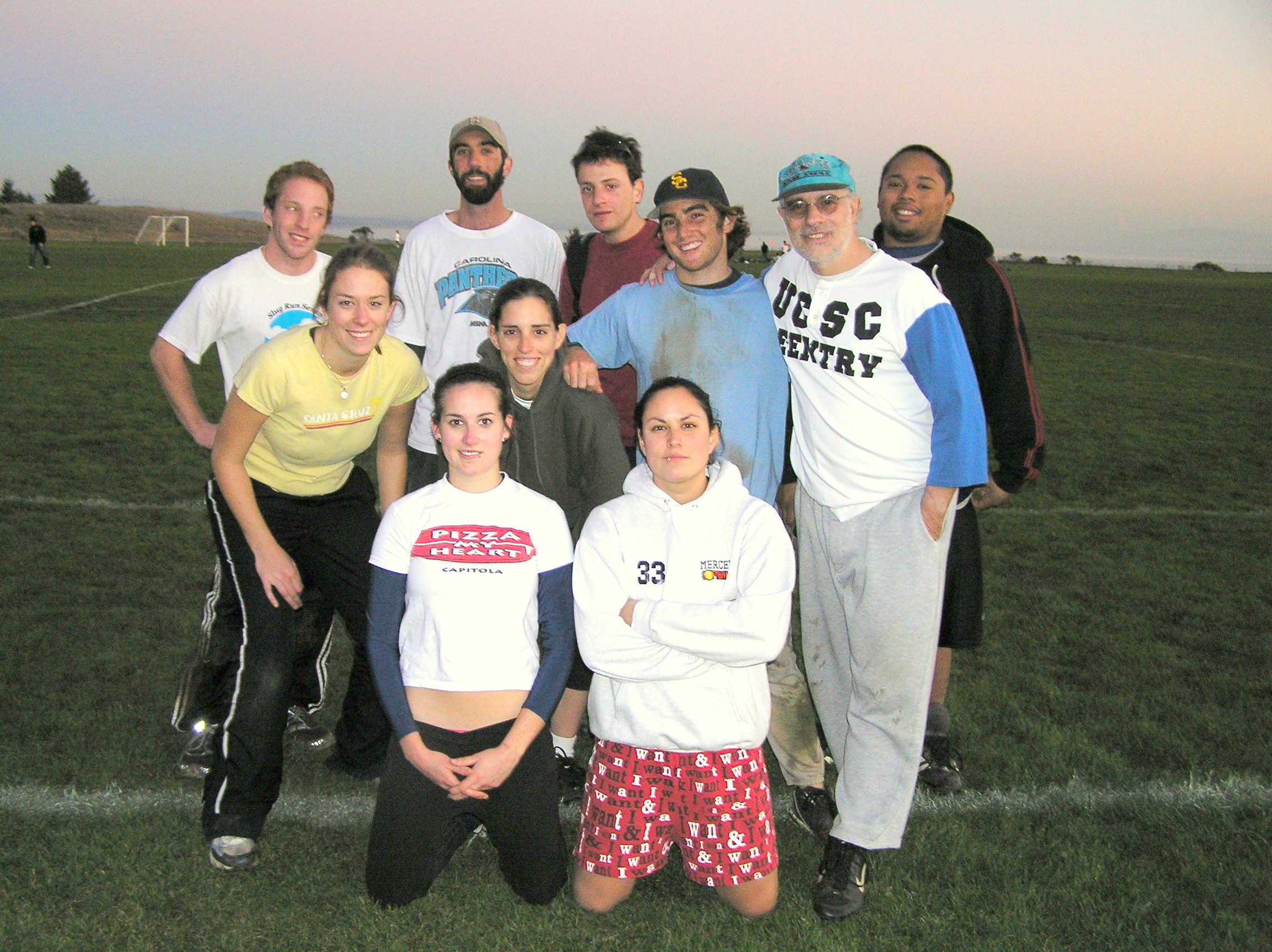 Fall 2006 Coed Softball Re-Entry Team
back row (standing from left to right): Harrison, Asher, Ryan and Cameron
middle row (from left to right): Clara, Kim, Josh and Howie
front row (kneeling from left to right): Emily and Allison
not shown: Michael and Tracy
More pictures, including those taken at the team pizza party at Tony and Alba's, can be found by clicking here.
Latest news
Championship game: Re-Entry vs. Los Gigantes boxscore
inning:
1
2
3
4
5
6
7
Runs
Re-Entry
4
0
0
4
3
1
0
12
Los Gigantes
0
3
0
1
0
0
9
13
For 6 1/2 innings, Re-Entry out-played and out-hustled the undefeated Los Giagntes, building a 12--4 lead going into the bottom of the seventh inning. But, in a thrilling (for Los Gigantes) and nightmarish (for Re-Entry) final inning, Los Gigantes found their strokes, and stormed back with a nine run rally to eke out a victory and seize the championship and the T-shirts. Normally, in such circumstances, the losing team folds under pressure. Not so today. Re-Entry played a superb game both on offense and on defense. The latter did not falter in that fateful seventh inning. Instead, Los Gigantes came up clutch with solid line drives and a number of flares that dropped in between the infield and outfield. All we can do is tip our caps to them for sustaining their impressive season ending drive.
In retrospect, it was a fabulous playoff run, with the Re-Entry team playing nearly flawless softball, only to come up short at the very end against an inspired opponent. Nevertheless, the nucleus is there for a repeat drive for a possible championship in the spring of 2007.


Next Game
The fall season has ended. Coed softball resumes in April, 2007 at the start of the spring quarter. Best wishes for the holidays and a happy 2007!!!



Highlights of the previous playoff games
Semi-finals: IRULEU vs. Re-Entry boxscore
inning:
1
2
3
4
5
6
7
Runs
IRULEU
0
1
0
5
3
2
0
11
Re-Entry
0
1
3
0
1
6
1
12
The semi-final game of Re-Entry vs. the Division II first place team, IRULEU, was a game that will be long remembered by our team. After a controversial start, in which the first run scored by Re-Entry was not recorded by the umpire (with runners on first and second, a two out run scoring single by yours truly), Re-Entry jumped to an early 4--1 lead. It was at this point that we learned that the score was not 5--1. Shaken from the news of a run not counted, we were not able to contain a strong offensive push by IRULEU highlighted by a bases clearing triple. By the sixth inning, IRULEU had built an 11--5 lead and looked like it was cruising into the final round of the playoffs. A leaping catch at shortstop ended the sixth inning IRULEU threat (saving two runs in the process). This seemed to light a spark, because in the bottom of the 6th inning, Re-Entry stormed back and scored six runs to tie up the contest. The top of the seventh saw another IRULEU threat (two outs and two men on) eliminated by a fine defensive play to end the inning.
The bottom of the seventh inning (with the light of day fading fast) started out with an unproductive out. But, timely hitting allowed the next three runners to reach base safely. Then, with the bases loaded, one out and our leading slugger Josh up at the plate, it looked like victory was in our grasp. But, Josh's hard ground ball to 3rd base was fielded cleanly, and the throw to the plate produced the second out of the inning (by a force play). Then, instead of holding on to the ball and getting ready for the next batter, the catcher threw the ball to third base (perhaps thinking that a double play was possible). But, this was Harrison who was running from second to third. There was no way he was not going to beat the throw easily. The ball nearly hit Harrison (who was already at third base) and he ducked. This surprised the third baseman, and the ball bounced off his glove and dribbled behind him. Harrison had an intuition of what had just happened, and he immediately took off for home. The third baseman retrieved the ball and threw home. Not a bad throw, which technically beat Harrison to the plate. But, Harrison was able to avoid the tag and score the winning run! It was a wild finish to a superb game, and propelled the Re-Entry Rockets into the finals!!


Quarter-finals: Manhammer IV vs. Re-Entry boxscore
inning:
1
2
3
4
5
6
7
Runs
Manhammer IV
1
0
0
1
0
5
0
7
Re-Entry
0
3
2
8
1
0
x
14
Re-Entry combined timely hitting and solid defense to knock off the first place team of Division IV. The end result was a convincing 14--7 win against Manhammer IV. Highlights include two amazing throws by Josh to Allison at third base, resulting in one out and one extremely close play. A superb double play by Allison (tagging out the runner from second and then getting the force at second base) ended a threat in top of the fourth inning. An eight run burst in the bottom of the fourth inning by Re-Entry followed which essentially iced the game.


TEAM ROSTER
Fall 2006 Re-Entry coed team softball roster

PLAYER
POSITION(S)
Emily Cairns
OF, C
Cameron Chinn
OF, 1B
Harrison Ellman
OF, SS
Allison Garcia
3B
Michael Green
DH, C
Howie Haber
SS, OF
Josh Kanter
OF
Kim Lewis
2B, RF, C
Ryan Lewitter
1B
Clara Lillig-Wilshire
2B, RF
Asher Noel Reilly
OF
Tracy Wilson
C, RF
Schedule of softball games
Fall 2006 Division III Coed Softball Schedule

Game
Date
Time
Field
Opponent
Score
October 12
4 pm
1
Lumpen Proletariat
7--2 (W)
October 19
4 pm
1
Mercurials
21--7 (W)
October 26
4 pm
1
Sluggerz
10--4 (W)
November 2
4 pm
1
--
Postponed
November 9
4 pm
1
Los Gigantes
8--9 (L)
November 16
4 pm
1
Wok-Men
18--10 (W)
Quarter-finals
November 29
4 pm
3
Manhammer IV
14--7 (W)
Semi-finals
November 30
4 pm
3
IRULEU
12--11 (W)
Championship Game
December 1
4 pm
1
Los Gigantes
12--13 (L)
There are four divisions of coed softball. The top two teams from each division qualify for the playoffs.



Division III Coed Softball League Final Standings
Team
Won
Lost
Games Behind
* Los Gigantes
5
0
--
* Re-Entry
4
1
1
Lumpen Proletariat
2
3
3
Sluggerz
2
3
3
Mercurials
1
4
4
Wok-Men
1
4
4

* clinched a playoff berth.
Results of October 12
Re-Entry 7 &nbsp &nbsp Lumpen Proletariat 2
Los Gigantes 12 &nbsp &nbsp &nbsp Mercurials 6
Sluggerz 13 &nbsp &nbsp Wok-Men 11

Results of October 19
Re-Entry 21 &nbsp &nbsp Mercurials 7
Los Gigantes 16 &nbsp &nbsp Wok-Men 13
Lumpen Proletariat 17 &nbsp &nbsp Sluggerz 16

Results of October 26
Re-Entry 10 &nbsp &nbsp Sluggerz 7
Mercurials 26 &nbsp &nbsp Wok-Men 21
Los Gigantes 23 &nbsp &nbsp Lumpen Proletariat 7

November 2 games rained out (to be rescheduled for November 16)
Results of November 9
Los Gigantes 8 &nbsp &nbsp Re-Entry 7 (9 innings)
Wok-Men 22 &nbsp &nbsp Lumpen Proliteriat 21
Sluggerz 20 &nbsp &nbsp Mercurials 15

Results of November 16
Re-Entry 18 &nbsp &nbsp Wok-Men 10
Los Gigantes 10 &nbsp &nbsp Sluggerz 6 (approximate score)
Lumpen Proletariat 15 &nbsp &nbsp Mercurials 14

Quarterfinal Playoff Results of November 28
Los Gigantes 14 &nbsp &nbsp Wolfpack 13
Backyard Bangers 21 &nbsp &nbsp B/E 4

Quarterfinal Playoff Results of November 29
Re-Entry 14 &nbsp &nbsp Manhammer IV 7
IRULEU 14 &nbsp &nbsp Trailer Trashers 9

Semifinal Playoff Results of November 30
Re-Entry 12 &nbsp &nbsp IRULEU 11
Los Gigantes 10 &nbsp &nbsp Backyard Bangers 8

Championship Game of December 1
Los Gigantes 13 &nbsp &nbsp Re-Entry 12
Location of the Softball Fields
All fields are adjacent to the East Field House. The field closest to the swimming pool is Field 1 (for another view click here). Follow the running track in the direction of Monterey Bay to reach Field 2. Keep following the track as it turns, and you will then end up at Field 3, which is the furthest of the three softball fields from the Field House.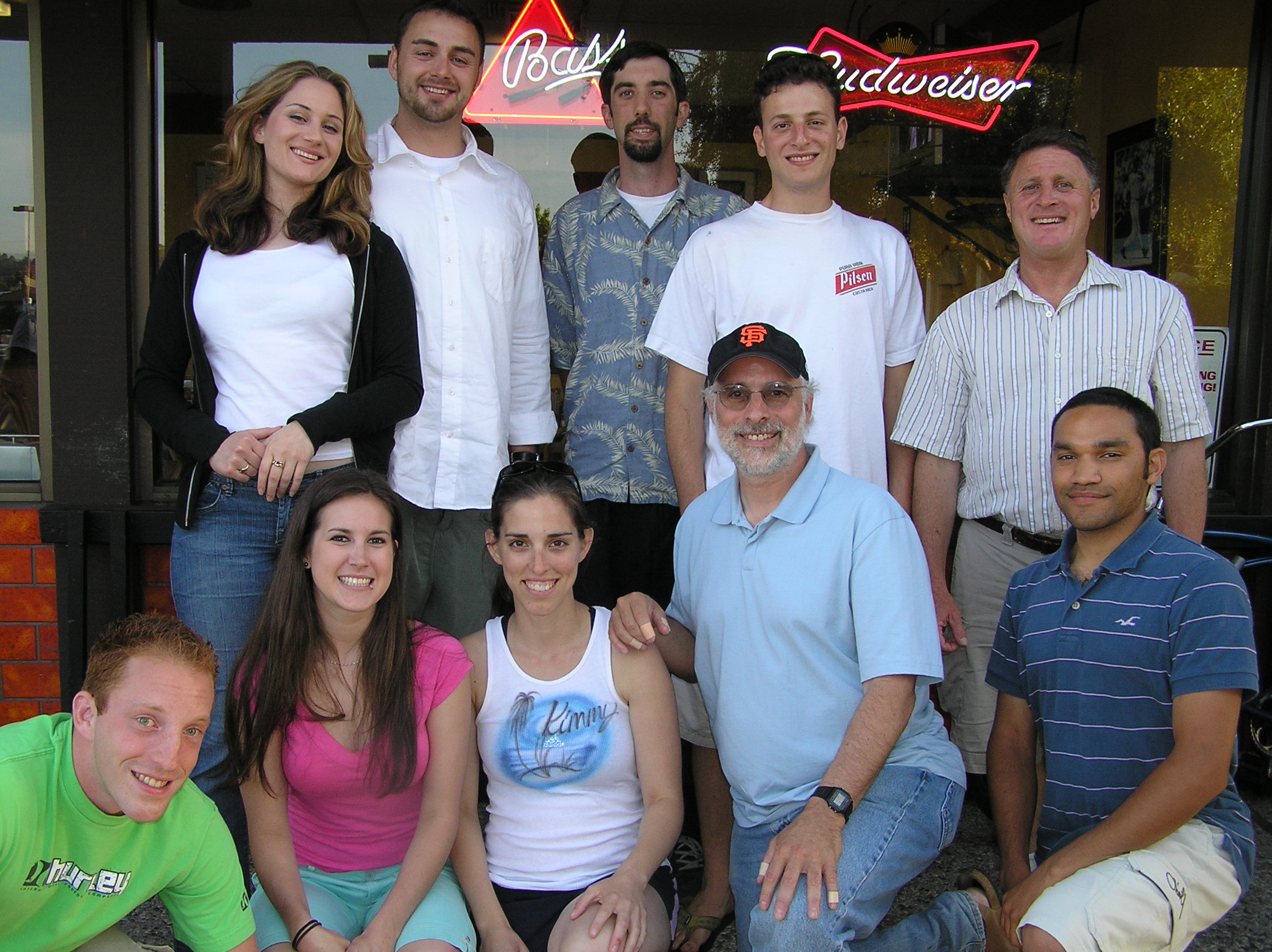 Spring 2006 Coed Softball Re-Entry Team
back row (standing from left to right): Kimberly, Jan, Asher, Ryan and Michael Green
front row (kneeling from left to right): Harrison, Emily, Kim, Howie and Michael Reddy
not shown: Tanya, Cindy, Ezequiel and Lindsay
Coed team photos from previous seasons

(pictures from the spring 2006 coed team)

(pictures from the fall 2005 coed team)

(pictures from the spring 2005 coed team)

(pictures from the fall 2004 coed team)

(pictures from the spring 2004 coed team)

( pictures from the fall 2003 coed team)

( pictures from the fall 2002 coed team)
Coed team web pages from previous seasons

( Spring 2006 coed team web page)

( Fall 2005 coed team web page)

( Spring 2005 coed team web page)

( Fall 2004 coed team web page)

( Spring 2004 coed team web page)

( Fall 2003 coed team web page)

( Fall 2002 coed team web page)
---
haber@scipp.ucsc.edu
Last Updated: December 1, 2006