---
---
Team name: Re-Entry (sponsored by STARS)
League Commissioner: Kevin ("Skippy") Givens (kdgivens@ucsc.edu)
Link to the current Re-Entry Team home page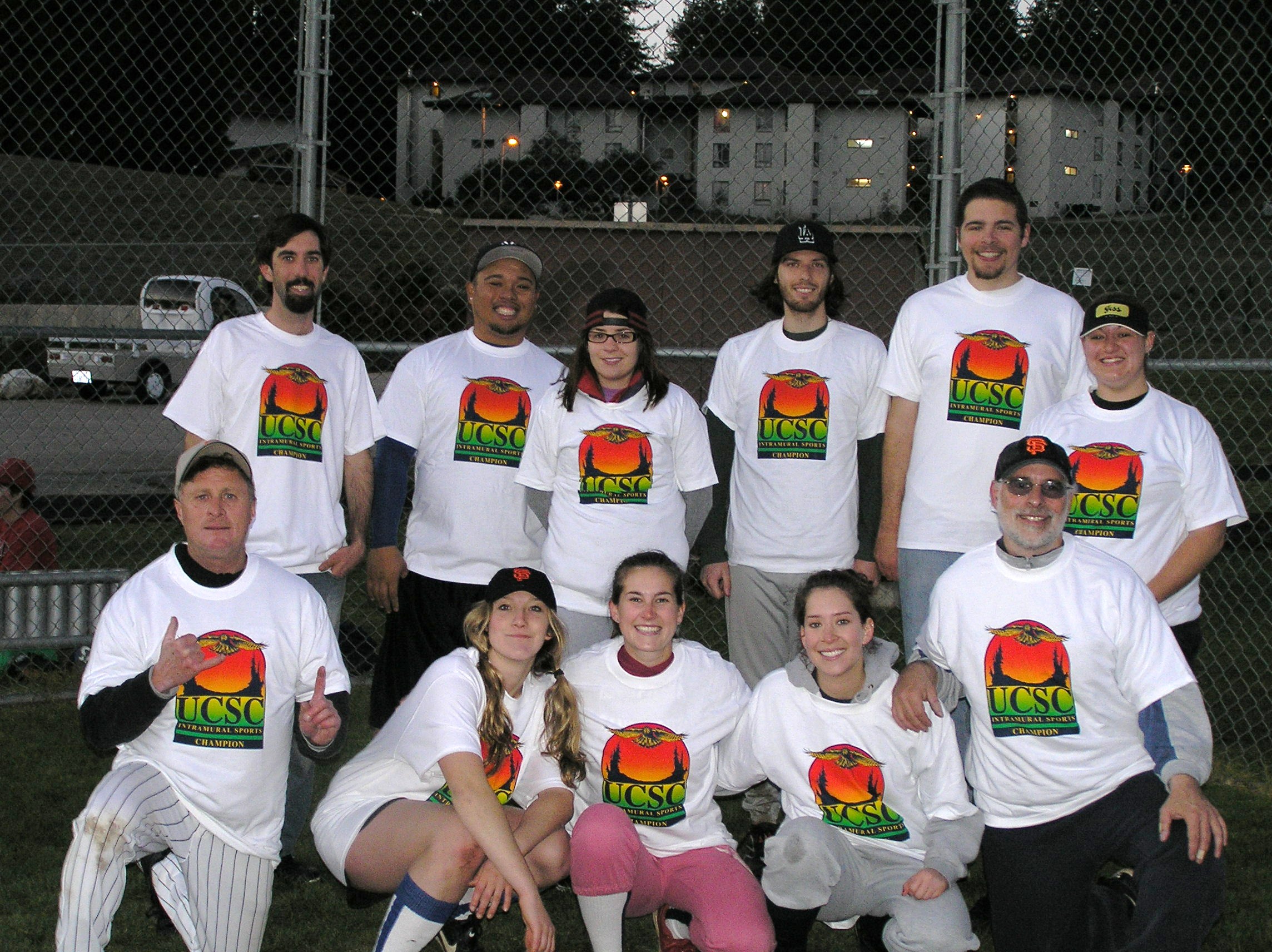 The Fall 2007 Coed Softball Re-Entry Team
Intramural Coed Softball Champions!!!
back row (standing from left to right): Asher, Cameron, Meredith, David, Adrian and Jessica
front row (kneeling from left to right): Michael, Meagan, Emily, Amanda and Howie
not shown: Dom and Rob
More team pictures can be found here.
Latest news
Check out the team photos taken from the biannual end-of-season team pizza party at Tony & Alba's, which are now posted.
After surviving a very close call in the semi-finals, in which Re-Entry eked out a thrilling extra-inning victory, we faced our final challenge in the championship game against the only other undefeated team in the intramural softball leagues. Merdeith was added to the women's lineup at the last moment, and we appreciate her contributions. Despite some lackluster Re-Entry hitting in the semi-finals just completed, this time the Re-Entry bats were relentless, and we coasted to an easy 16--2 win. Somewhat of an anticlimax, in fact. Nevertheless, WE ARE THE CHAMPIONS!!! (with apologies to Queen).
It was a fantastic undefeated season, made possible by a total team effort. Congratulations to all the Re-Entry players. Good luck on your final exams, and have a great holiday season. We look forward to seeing you all for the spring softball season next April.
Manager's Corner
Re-Entry had an amazing season. I'm so proud of all of you who showed up for the practices and games. We all put a lot of effort into this and it really paid off. In the final championship game, we all played an exceptional nearly flawless game, and really deserved to be Intramural Champions.
The other teams we played were completely blown away by Howie's fielding, particularly in the championship game where he managed to stop the ball, fall and still make an awesome throw to first (while still on the ground) to get the out. David had a lot of action out in left field (making the semi-finals and championship game ending catches), and always got the out, not to mention those amazing throws to cut down runners trying for at third. Asher made some great plays in the outfield and always reached base with some spectacular hits and home runs, not to mention his blazing speed. Dom's propensity for two-out RBI hits played a key role in maintaining our undefeated status. We could always count on Cameron to bring in those runners on base with his mammoth home run drives, while not letting any balls past him at 3rd. Adrian also provided some solid defensive prowess at 3rd base (and his recruitment of Meagan and David should be the envy of any general manager!). Mike did an outstanding job of communicating with us and was spectacular at 1st base for the crucial semi-final game. He replaced an equally outstanding Rob who was solid all year for us at 1st base. We wish him the best as he is now spending two months in Australia.
As for the women we all made some great plays as well as providing some key hits that helped to make us Champions. Meagan set a team record with ten consecutive hits earlier in the season. Her awesome catch of a deep drive in the championship game snuffed out an IRULEU! rally and provided the final demoralizing blow to their chances of a championship. Jessica was reliable at 2nd base and provided many timely hits. Amanda ("Wheels") contributed many moments of excitement, but her clutch RBI single in the extra inning of the semi-final game was one of the defining moments of the season.
Finally, the webmaster must add a few remarks about our manager, Emily. Clearly the "manager of the year" of the league, Emily's enthusiasm was infectious. She managed skillfully and brought out the best of her players. She contributed to all aspects of the game, with skillful catches, timely hits and a winning record in Roshambo. It was an honor playing for her.
Next Game
Our next game will take place in April, 2008 when the spring intramural coed softball season begins. Look for an e-mail in March announcing spring training.

Highlights of the playoff games
Championship game: Re-Entry vs. IRULEU!
inning:
1
2
3
4
5
6
7
Runs
IRULEU!
2
0
0
0
0
0
0
2
Re-Entry
3
4
3
1
2
3
x
16
In contrast to the low-scoring semi-finals, the Re-Entry Bats were on fire for the championship game. Re-Entry scored in every inning, and kept the pressure on, while the Re-Entry defense kept IRULEU! scoreless for the last six innings. In the battle between the only two undefeated intramural softball teams, Re-Entry made it look easy and coasted to a 16--2 victory. Perhaps the shocking loss in the final inning of last year's fall classic provided extra motivation, although today's outcome never seemed in doubt. David's acrobatic game-ending catch for the second consecutive playoff game put the final exclamation point on the fall season. Congratulations to Re-Entry for an undefeated season and our first championship since Fall 2004.

Playoff semi-finals: Re-Entry vs. Manhammer IV boxscore
inning:
1
2
3
4
5
6
7
8
Runs
Re-Entry
6
0
0
1
0
1
0
3
11
Manhammer IV
1
1
2
0
0
0
4
1
9
Every season, there is one game that truly tests the character of a championship team. The semi-final playoff game vs. Manhammer IV proved to be the defining game of the season. Our opponents played with a roster of seven players (two less than a full team). Nevertheless, their valiant efforts were impressive, and an exciting (nail-biting) four run rally in the bottom of the seventh inning tied the game and forced extra innings. Meanwhile, after a six run barrage in the first inning, the Re-Entry bats went cold, resulting in only two runs in the next six inning. Strong team defensive play (highlighted by Michael's saving snag of an off-target throw to complete an inning ending double play in the sixth inning) helped to maintain a shrinking Re-Entry lead. In the bottom of the sixth inning, we were haunted by a failed attempt to stretch a triple into a home-run, as more conservative base-running would have eventually ensured a one-run victory. Instead, Re-Entry faced elimination, with the winning run on base for Manhammer IV in the bottom of the 7th inning. Luckily, we escaped with the third out. In the top of the 8th inning, a clutch two run triple by Howie followed by a key RBI single by Amanda provided the needed cushion. Stunning defensive play in left-field by David all game proved to be the ultimate difference. In particular, David's on-the-money throw to Adrian to cut down that runner at third in the seventh inning was a critical game-saver. David ended the final Manhammer IV threat in the bottom of the 8th inning with a running catch that clinched the game and sent Re-Entry into the championship finals.

Playoff quarter-finals: Re-Entry vs. Big Bangers boxscore
inning:
1
2
3
4
5
6
7
Runs
Big Bangers
1
1
1
0
1
0
0
4
Re-Entry
1
2
6
1
5
6
x
21
The game against the Big Bangers started off as a low-scoring affair, with the score tied at 3--3 after 2 1/2 innings. Finally, in the bottom of the 3rd inning, the Re-Entry bats came alive. A six run 3rd inning began to put the game out of reach. A superb defensive showing by the Re-Entry gloves kept the opponents to four runs total (with no multi-run innings). Eleven runs in the final two innings completed the rout, and paves the way for a Re-Entry appearance in the semi-finals.

TEAM ROSTER
Fall 2007 Re-Entry coed team softball roster

PLAYER
POSITION(S)
Dom Amato
OF, 2B
Emily Cairns
OF
Cameron Chinn
3B, SS, OF
Rob Fairlie
1B,OF
Adrian Frost
3B, 1B
Michael Green
OF, 1B
David Greenberger
OF, 3B
Howie Haber
SS
Meagan Oldfather
OF, 3B, 2B
Asher Noel Reilly
OF
Amanda Tufeld
C, 2B
Jessica Nicole Young
2B, C, OF
Schedule of softball games
Fall 2007 Division I Coed Softball Schedule

Game
Date
Time
Field
Opponent
Score
October 17
4 pm
2
------------
Canceled due to rain
October 24
5:15 pm
2
Accept No Subs
9--6 (W)
October 31
4 pm
2
Fly Ball to Left
34--0 (W)
November 7
4 pm
1
Hannah & the G-Strings
20--11 (W)
November 14
4 pm
2
The Team
13--7 (W)
Quarter-finals
December 3
4 pm
2
Big Bangers
21--4 (W)
Semi-finals
December 7
2:30 pm
2
Manhammer IV
11--9 (W)
Championship
December 7
4 pm
1
IRULEU!
16--2 (W)
Division I Coed Softball League Standings
Team
Won
Lost
Games Behind
** Re-Entry
4
0
--
* Hannah & the G-Strings
3
1
1
* The Team
2
2
2
Accept No Subs
1
3
3
Fly Ball to Left
0
4
4

**clinches first place in the division and a playoff berth
* cliches a wild card entry into the playoffs
October 17, 4 pm games
Canceled due to wet field conditions; rescheduled for October 24 at 5:15 pm.
October 24, 4 pm games
The Team 19 &nbsp &nbsp Accept No Subs 15
Hannah & the G-Strings 32 &nbsp &nbsp Fly Ball to Left 6
Re-Entry (BYE)

October 24, 5:15 pm games
Re-Entry 9 &nbsp &nbsp Accept No Subs 6
Hannah & the G-Strings 22 &nbsp &nbsp The Team 6
Fly Ball to Left (BYE)

October 31, 4 pm games
Re-Entry 34 &nbsp &nbsp Fly Ball to Left 0
Hannah & the G-Strings 25 &nbsp &nbsp Accept No Subs 8
The Team (BYE)

November 7, 4 pm games
Re-Entry 20 &nbsp &nbsp Hannah & the G-Strings 11
The Team 9 &nbsp &nbsp Fly Ball to Left 0 (forfeit)
Accept No Subs (BYE)

November 14, 4 pm games
Re-Entry 13 &nbsp &nbsp The Team 7
Accept No Subs 9 &nbsp &nbsp Fly Ball to Left 0 (forfeit)
Hannah & the G-Strings (BYE)
UCSC Coed Softball League Teams (Fall, 2007)
Division I &nbsp [Wed., 4 pm]
Division II &nbsp [Thurs., 4 pm]
Division III &nbsp [Fri., 4 pm]
Accept No Subs
A2CF
Big Bangers
Re-Entry
Spartans
Backyard Bangers
The Team
Team OX
Bananach Slugs
Hannah & the G Strings
Amazing A's
Manhammer IV
Fly Ball to Left
--------
IRULEU!
Location of the Softball Fields
All fields are adjacent to the East Field House. The field closest to the swimming pool is Field 1 (for another view click here). Follow the running track in the direction of Monterey Bay to reach Field 2. Keep following the track as it turns, and you will then end up at Field 3, which is the furthest of the three softball fields from the Field House.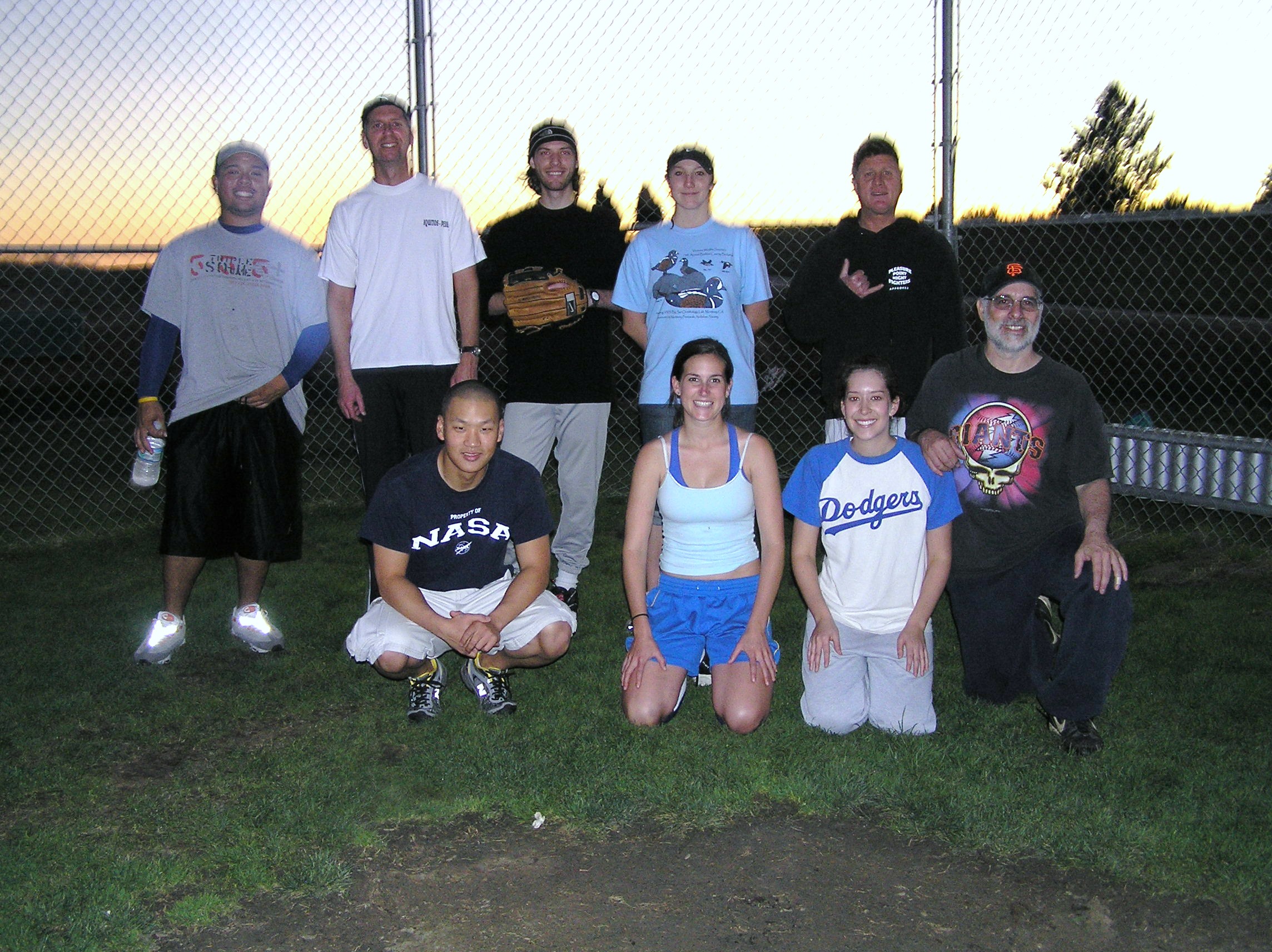 The Fall 2007 Coed Softball Re-Entry Team
after clinching first place and completing an undefeated regular season
back row (standing from left to right): Cameron, Rob, David, Meagan and Michael
front row (kneeling from left to right): Dom, Emily, Amanda and Howie
not shown: Asher, Adrian and Jessica
Coed team photos from previous seasons

(pictures from the spring 2007 coed team)

(pictures from the fall 2006 coed team)

(pictures from the spring 2006 coed team)

(pictures from the fall 2005 coed team)

(pictures from the spring 2005 coed team)

(pictures from the fall 2004 coed team)

(pictures from the spring 2004 coed team)

( pictures from the fall 2003 coed team)

( pictures from the fall 2002 coed team)
Coed team web pages from previous seasons

( Spring 2007 coed team web page)

( Fall 2006 coed team web page)

( Spring 2006 coed team web page)

( Fall 2005 coed team web page)

( Spring 2005 coed team web page)

( Fall 2004 coed team web page)

( Spring 2004 coed team web page)

( Fall 2003 coed team web page)

( Spring 2003 coed team web page)

( Fall 2002 coed team web page)
---
haber@scipp.ucsc.edu
Last Updated: December 8, 2007