Line scores from the playoff games
Championship game: Re-Entry vs. Sneaky Elephants
inning:
1
2
3
4
5
6
7
Runs
Re-Entry
7
1
5
2
0
3
0
18
Sneaky Elephants
1
1
0
2
0
1
3
8
On a sunny summer-like day with temperatures in the low 70s and with the championship up for grabs, Re-Entry responded with their best performance of the fall season, resulting in a decisive 18--8 win over the Sneaky Elephants. The offense was clicking early and often, and was backed up by a stalwart defense that did not allow their opponents more than two runs in any inning until the final one, at which point the lead was more than secure.
Despite Howie's fly ball out to lead off the game, Lucy singled followed by David's single, and most of the rest of the lineup followed suit. By the end of the top of the first inning, everyone had batted at least once, and seven runs were on the board. However, unlike the semi-finals, Re-Entry was not going to let their opponents get back in the game. Solid defense held the Sneaky Elephants to one run in each of the first two innings. In the top of the third inning, a two-out three-run home run by Howie finished off a five run inning and the rout was on. The Re-Entry offense was impressive given the strong defensive skills of our opponents (some of the Re-Entry outs were due to superb catches by the Sneaky Elephant outfielders). Re-Entry base-running was aggressive, and included a gutsy slide at home by Jessica (in her shorts!) to steal another run. That play earned Jessica the game ball.
By the top of the 6th inning, another three run outburst (including a daring attempt by Rob to score on an RBI single by Howie that succeeded when the catcher failed to apply the tag) pushed the Re-Entry lead to 14 runs. From that point, careful defensive play recorded the six remaining outs to assure Re-Entry of the victory. A smart decision by a Re-Entry batter to end the top of the 7th by grounding into a double play guaranteed sufficient sunlight in the bottom of the 7th to allow Re-Entry to close out the game.
This game was a real team effort, with everyone contributing to the win. Will found his batting stroke with a number of solid line drive hits. Michele frustrated our opponents with some challenging infield rollers that kept two of the big innings alive. The infield with Allison at 3rd base, Rob at 1st, and shortstop and 2nd base covered in turn by Lucy, Jessica and Howie kept their pre-game promise with consistent and smart plays to avoid the big inning. The outfielders, David, Asher, Stefanie, Will and Abe were equally solid, and did not let one ball get by them---an impressive achievement.
Such a decisive win against an excellent Sneaky Elephants team is testament to the outstanding effort on the field by Re-Entry. This team is a worthy successor to the 2007 Re-Entry fall softball champions!



Semi-final playoff game: Re-Entry vs. Big Bangers
inning:
1
2
3
4
5
6
7
Runs
Big Bangers
1
0
5
2
0
7
0
15
Re-Entry
7
1
0
5
0
2
1
16


Another playoff game for the ages. Re-Entry started fast, with a big seven run first inning to take a substantial lead. The Big Bangers fought back, tying the game in the top of the fourth. But, Re-Entry responded in the bottom of the fourth with a five run outburst, capped by a long two-run home run by Asher. However, a few defensive miscues allowed the Big Bangers to come back, with a seven run inning in the top of the 6th inning, and suddenly Re-Entry was down two runs and with championship dreams in jeopardy. But, the team character prevailed, and Re-Entry tied the game in the bottom of the 6th and held the Bing Bangers scoreless in the top of the 7th (due to a nifty catch by David in left-field that resulted in an inning ending double play, after a Big Banger runner strayed too far from first base). With the last vestiges of sunlight quickly vanishing, Howie singled with one out in the 7th, advanced to second base on Michele's ground-out, and then scored the winning run thanks to a walk-off double by David to clinch the victory.

So, Re-Entry prevailed despite some lapses in the solid defense that we have been accustomed to (which allowed two big innings for the Big Bangers), and inconsistent hitting. We faced adversity and overcame it, putting us in the position to defend our 2007 fall softball championship.



Quarter-final playoff game: Re-Entry vs. Porter Pounders w/ Cheese
inning:
1
2
3
4
5
6
7
Runs
Porter Pounders w/ Cheese
0
0
0
0
0
1
1
2
Re-Entry
1
3
0
9
1
2
x
16
In the opening round of the playoffs, the Re-Entry bats were somewhat sluggish at first (presumably due to all that turkey from the previous week). But, the defense was again stingy, shutting down the Porter Pounders w/ Cheese offense during the first five innings. The highlight among many stellar defensive plays was a perfect relay from right field to Lucy at shortstop who then wheeled and fired a laser to third base cutting down a greedy Porter Pounders w/ Cheese runner trying to stretch a double into a triple. Meanwhile, Re-Entry nursed a 4--0 lead until the offense finally got on track with a nine run outburst in the fourth inning, capped by a magnificent grand slam homerun by David that essentially decided the game.
Box scores from all fall season games can be found here.


Manager's Blog
Under construction.



Dedication
It is with great sadness that I announce that our former teammate, Michael Green, passed away on Thursday October 2. He left us while pursuing one of his other main pastimes---surfing. He will be sorely missed. We dedicate this fall season championship to his memory.



TEAM ROSTER
Fall 2008 Re-Entry coed team softball roster

PLAYER
POSITION(S)
Stefanie Byrd
2B, 3B, OF
Jessica Clayton
2B, SS, OF
Michele David
C
Rob Fairlie
1B
Allison Garcia
3B, C
David Greenberger
OF
Howie Haber
SS, 2B, OF
Justin Marion
1B
Janelle Mendoza
2B
Abraham Mitnik
OF
Asher Noel Reilly
OF, 1B
Will Spangler
OF
Lucy Taylor
2B, SS
Schedule of softball games
Fall 2008 Division II Coed Softball Schedule

Date
Time
Field
Opponent
Score
October 15
4 pm
3
The Spartans
21--5 (W)
October 22
4 pm
3
Mbengas
33--15 (W)
October 29
---
--
BYE
---
November 5
POSTPONED
3
Tree Sluggers
---
November 12
4 pm
3
The Team
12--9 (W)
November 19
4 pm
3
Tree Sluggers
32--2 (W)
Quarter-final
December 3
4 pm
1
Porter Pounders w/ Cheese
16--2 (W)
Semi-final
December 4
4 pm
2
Big Bangers
16--15 (W)
Championship
December 5
4 pm
1
Sneaky Elephants
18--8 (W)
Final Division II Coed Softball League Standings
Team
Won
Lost
Games Behind
Re-Entry
4
0
--
Tree Sluggers
2
2
2
The Team
1
2
2 1/2
Mbengas
1
2
2 1/2
Spartans
1
3
3
Division II Coed Softball Results
October 15
Re-Entry 21 &nbsp&nbsp Spartans 5
The Team 7 &nbsp &nbsp Tree Sluggers 0 [forfeit]


October 22
Re-Entry 33 &nbsp &nbsp Mbengas 15
Tree Sluggers 22 &nbsp &nbsp Spartans 11


October 29
Tree Sluggers 18 &nbsp &nbsp Mbengas 7
Spartans 17 &nbsp &nbsp The Team 10


November 5
All games canceled due to poor field conditions.

November 12
Re-Entry 12 &nbsp &nbsp The Team 9
Mbengas 20 &nbsp &nbsp Spartans 17


November 19
Re-Entry 32 &nbsp &nbsp Tree Sluggers 2
Mbengas &nbsp vs. &nbsp The Team [double forfeit]


Quarter-final playoff games
Re-Entry 16 &nbsp &nbsp Porter Pounders w/ Cheese 2
Big Bangers 18 &nbsp &nbsp Tree Sluggers 7
Sneaky Elephants 16 &nbsp &nbsp Low Ballers 4
Manhammer 25 &nbsp &nbsp Spartans 7

Semi-final playoff games
Re-Entry 16 &nbsp &nbsp Big Bangers 15
Sneaky Elephants 10 &nbsp &nbsp Manhammer 7

Championship Game
Re-Entry 18 &nbsp &nbsp Sneaky Elephants 8

Location of the Softball Fields
All fields are adjacent to the East Field House. The field closest to the swimming pool is Field 1 (for another view click here). Follow the running track in the direction of Monterey Bay to reach Field 2. Keep following the track as it turns, and you will then end up at Field 3, which is the furthest of the three softball fields from the Field House.
The Fall 2007 Coed Softball Re-Entry Team
Intramural Coed Softball Champions!!!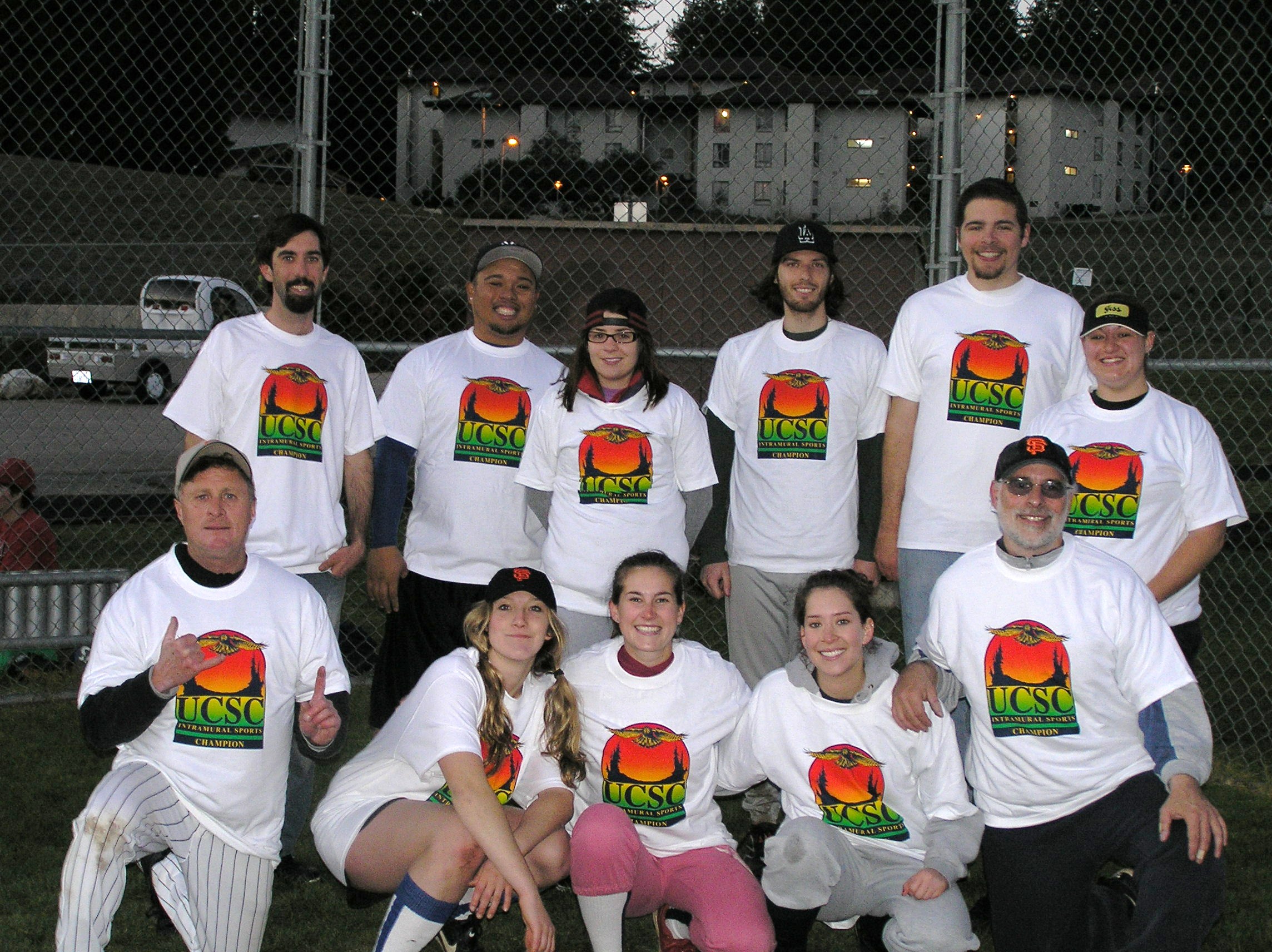 back row (standing from left to right): Asher, Cameron, Meredith, David, Adrian and Jessica
front row (kneeling from left to right): Michael, Meagan, Emily, Amanda and Howie
not shown: Dom and Rob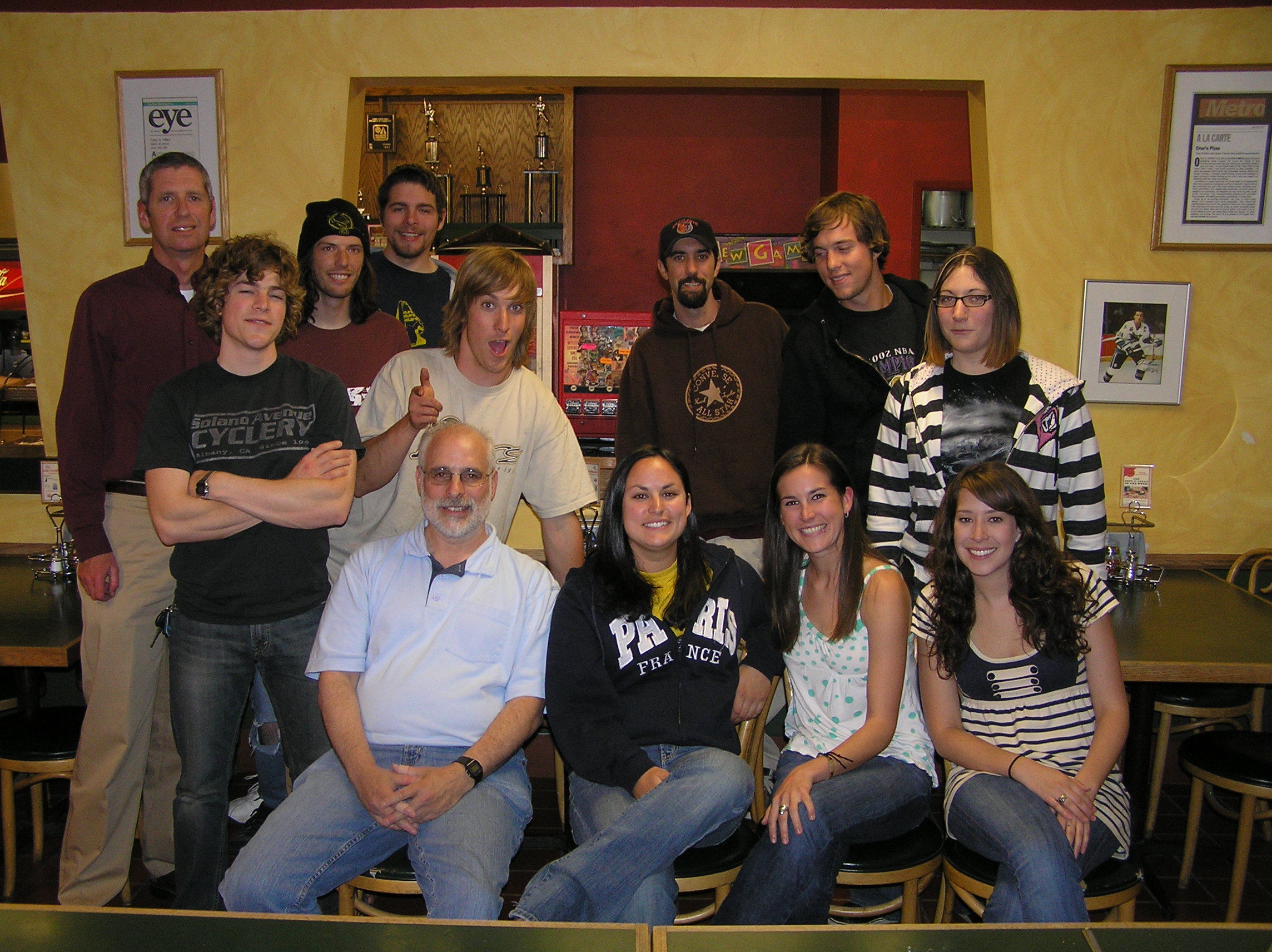 The Spring 2008 Coed Softball Re-Entry Team
standing from left to right: Rob, Jim, David, Adrian, Daniel, Asher, Conor and Amy
seated from left to right: Howie, Allison, Emily C. and Amanda
not shown: Emily N., Jessica and Michael
Coed team photos from previous seasons

(pictures from the spring 2008 coed team)

(pictures from the fall 2007 coed team)

(pictures from the spring 2007 coed team)

(pictures from the fall 2006 coed team)

(pictures from the spring 2006 coed team)

(pictures from the fall 2005 coed team)

(pictures from the spring 2005 coed team)

(pictures from the fall 2004 coed team)

(pictures from the spring 2004 coed team)

( pictures from the fall 2003 coed team)

( pictures from the fall 2002 coed team)





Coed team web pages from previous seasons

( Spring 2008 coed team web page)

( Fall 2007 coed team web page)

( Spring 2007 coed team web page)

( Fall 2006 coed team web page)

( Spring 2006 coed team web page)

( Fall 2005 coed team web page)

( Spring 2005 coed team web page)

( Fall 2004 coed team web page)

( Spring 2004 coed team web page)

( Fall 2003 coed team web page)

( Spring 2003 coed team web page)

( Fall 2002 coed team web page)
---
haber@scipp.ucsc.edu
Last Updated: December 6, 2008